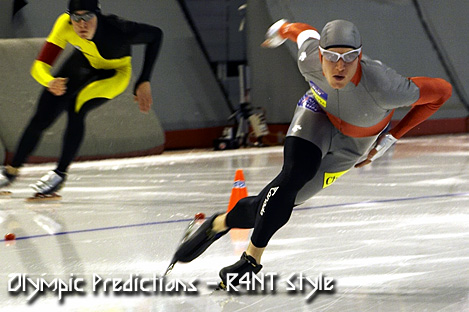 Olympic Predictions – R4NT Style
Jeremy Wotherspoon – Long Track Speedskating, Photograph by David Gluzman
As the second in a series of Olympic articles here on R4NT, I'm boldly stepping out and going to make predictions for the Canadian medal haul in the 2006 Torino Winter Olympics. Canada has been on an upward climb in the medal standings in the recent Winter Olympics. Canada placed ninth overall with seven medals in Albertville in 1992, sixth with 13 medals in Lillehammer in 1994 (that weird two year Olympic break to split up the summer and winter Olympic) fifth with 15 medals in 1998 in Nagano and fourth overall with 17 medals in 2002 in Salt Lake City. So not surprisingly the mandate of the Canadian Olympic Committee is higher than 17, namely 25 medals in 2006 in Torino. The motivation to increase the Winter Olympic medal haul is two-fold. First is the obvious, with the lead up to the 2010 games in Vancouver, the COC wants to have Canadians placing well on the podium. They actually want Canada to be the medal leader like Norway was in Lillehammer. There was some degree of embarrassment and national angst when Canada only won five medals in Calgary in 1988. Two silvers in figure skating (Brian Orser and Elizabeth Manley) and three bronzes (two by Karen Percy in skiing and one in mixed ice dancing). The other motivation is that if there is any Olympics where Canada should punch above its international weight it should be the Winter one. No one expects Canada to compete with the U.S. and Australia in the Summer Olympics, but damned if we are going to allow Mexico to upstage us in the Winter Olympics.
The Olympics have changed a lot since 1988 in Calgary, where my one and only Olympic experience took place (I saw some ski-jumping and a Sweden – Russia hockey game as well as a couple of medal ceremonies downtown). There are many new sports like freestyle skiing (it was a demonstration in 1988), snowboarding, short-track speed skating, skeleton, women's ice hockey and men's ice hockey with professional players. The absolute number of medals awarded has gone up, so it is more revealing to look at where Canada placed in the medal standings. Canada is sending 198 athletes and 219 support staff to the Torino Olympics with the aforementioned goal of 25 medals and third overall, which is a nice set up to 30 medals and first overall in 2010. In 2006, Canada is also participating in all 15 sports in this Olympics (up from 13 in 2002 and 11 in 1998). In the 2005/06 season, Canada is second over-all in World Cup rankings for all Olympic supports with 128 medals, in front of the U.S. with 115 and behind Germany at 159, so that bodes well for the Canadians going to the games.
Here is my comprehensive list of medal predictions for Canada in the 2006 Olympics including the overall number of medals and type I am predicting and then a selection of athletes to watch for when we all turn on the TV for two weeks.
Overall Medal Count: 22
Split by type:
Gold: 8
Silver: 7
Bronze: 7
When you decide what sports you are going to watch I know many people are more interested in the sports that Canada has the ability to do well in (a bit sad but true that success in a sport breeds more interest). So here is a list of some of the top contenders in sports that I personally think have a good shot at winning a medal. Maybe if you flick on the TV and skeleton is on you may be more interested in checking it out if you know the names of a couple of Canadians. I'm not going to predict medal colours and I don't mean this list to be inclusive, it is only representative of the Canadians who I am aware of that have a good shot at making the podium. If I forgot someone, or any readers out there care to give their own predictions, go over to the forum and post. R4NT will be posting a running medal count as well as Canadian results during the Olympics. (Loyal R4NT readers from other countries are free to post as well, but come on we're Canadian, I doubt the Aussies get all up over the bobsled event, except maybe if the Jamaican bobsled team is racing).
Hockey — Men
Hockey — Women
Curling — Men
Curling — Women
Jeff Pain — Men's Skeleton
Mellissa Hollingsworth—Richards — Women's Skeleton
Lindsay Alcock — Women's Skeleton
Bobsled, 2 man and 4 man
Beckie Scott — Cross Country Skiing
Jasey—Jay Anderson — Snowboarding
Maelle, Ricker — Snowboarding
Alana Kraus — Short Track Speedskating
Francois—Louis Tremblay — Short Track Speedskating
Eric Bedard — Short Track Speedskating
Mathieu Turcotte — Short Track Speedskating
Cindy Klassen — Long Track Speedskating
Kristina Groves — Long Track Speedskating
Clara Hughes — Long Track Speedskating
Jeremy Wotherspoon — Long Track Speedskating
Jeffery Buttle — Figure Skating
Emmanuel Sandhu — Figure Skating
Marie—France Dubreuil & Patrice Lauzon — Figure Skating — Dance
The whole ski—jumping team (which is the first time in a few years Canada has sent a ski—jumping team, and the oldest member of the team is 21 and the youngest is 16!)
Francois Borque — Alpine Skiing
Thomas Grandi — Alpine Skiing
Erik Guay — Alpine Skiing
Emily Brydon — Alpine Skiing
Jeff Bean — Freestyle Skiing
Jennifer Heil — Freestyle Skiing

MaxPower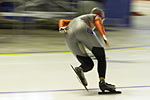 Olympic Predictions – R4NT Style
by MaxPower
Published on February 1st, 2006