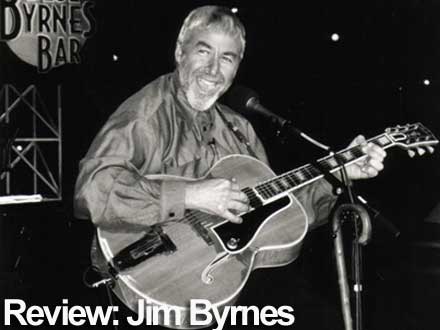 Jim Brynes – Fresh Horses
Most of the regular readers of r4nt will have never heard of Jim Byrnes but I'm willing to bet you've probably seen or heard him on TV. His most recognizable role was probably as Joe Dawson on the Vancouver-based Highlander series, and he has also done numerous commercial and cartoon voice-overs such as Inferno in the computer-animated Beast Wars series. But amidst all the acting, I think it's safe to say that Jim's first love is for the blues.
I'll admit that I probably would never have purchased this CD just by seeing it on the shelf. I bought it because I liked the few songs of his that I heard on Highlander. While I do enjoy the odd blues tune, I own very few old-school blues discs so I'm not blues-educated enough to dig too deeply into the nuts and bolts of things either. With that said, the actual review will be pretty short, so here goes!
Fresh Horses is a blues album to the core, there are no high-tempo rockers or overdriven guitars to be found here, but that's ok by me. Jim's raspy vocals fit the songs well and the arrangements, while not dazzlingly unique, are nicely put together. The production quality is solid all 'round. All the instruments are clear and evenly placed in the mix, allowing Jim's smooth guitar playing to shine through when called for.
It's interesting that, being a blues album, I get the distinct impression that Jim and his band are having a hell of a lot of fun playing. But having recorded myself, I think that's the best way to get a good recording, so it's a good thing here. A few of the stand-out tracks are the instrumental "Fresh Horses", the groovy "I Can't Be Satisfied" and lamenting "Love is Just a Gamble". There are a few covers as well, including Bob Dylan's "Just Like Tom Thumb's Blues" and Neil Young's "For the Turnstiles" which sound good. If I hadn't read through the liner notes I'd have just assumed they were Byrne's tunes. There is also an arrangement of the old tune "East Virginia" which is well done, but probably my least favorite of the bunch simply because of the style to the vocal lines.
If you're looking for a solid blues record to listen to on a quiet evening I'd recommend picking this one up. It's not likely to become a must-own album in your blues collection, but it's worth a few spins in the old CD player.

Obsidian

Jim Brynes – Fresh Horses
by Obsidian
Published on May 1st, 2004
Artist:

Jim Brynes

Label:

Maximum Records

When:

2004