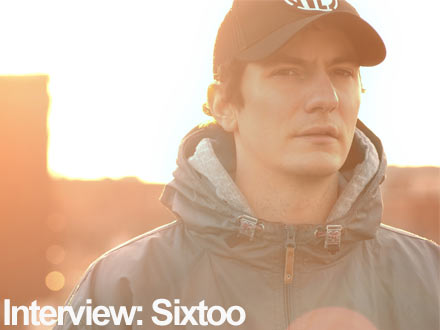 Interview with Sixtoo
He's been making music since the mid-90's: he's been a Sebutone, an affiliate of Anticon, brought together illegal art and music, been a maid of gold and worked with Buck 65, Sage Francis, Stigg of the Dump, Moka Only and Mr. Dibbs. Sixtoo's been making beats and laying down rhymes for almost of 10 years without any hint of slowing down. A Nova Scotia native, Sixtoo represents a forward thinking segment of Canadian hip-hop.
Sixtoo's style has moved from more typical indie hip-hop to a darker introspective look into paranoia and environments. His new CD, 'The Psyche Years' acts like a survey of his earlier works making some of his out-of-print tracks available again. Now signed to the prolific Ninja Tune label, he's touring with such Ninja Tune vets as Amon Tobin and Kid Koala as well as Bonobo and Blockhead.
Chris Harron: Thanks for giving up some of your time for this interview.
You've done a lot of moving around lately, with regards to labels. Do you feel more comfortable on Ninja Tune and do you think this is somewhere you're likely to stay?
Sixtoo: I work on a lot of music, and not very many labels could keep up with the amount of volume that I produce, so I think its good to have a very avenues for me to release music. That being said, my dealings with Ninja have been very easy, I'm sure there will be a long standing relationship with them, even if I do projects for other labels…
Chris:Your 'Psyche Years' compilation is coming out in a bit, what comes to your mind when you hear those old tracks again?
Sixtoo:Its out now, I think….
It pretty much just drives home the fact that I turned 30! I'm old!
Nah, I mean, really it just makes me feel a little nostalgic and romantic about my music…I had a lot of fun during those years, and I was collaborating with a lot of people… I felt like things were growing. I learned a lot back then. I just wanted there to be one decent collection instead of 5 CDs that you can't listen to end-to-end.
Chris:You have an enormous back catalogue of songs. How did you decide which tracks to put on 'The Psyche Years'?
Sixtoo:I just took the songs that I thought held the most longevity. I wasn't really so concerned with making "the most accurate portrayal of my carreer" in as much as just trying to put out something people could still listen too and get a reference for my new stuff with. I would have liked to include earlier stuff, but all those four-track recordings sound very ass.
Chris:What's the live experience like for you as the artist?
Sixtoo:In a time where everyone rips your record, and that the labels keeps half of everything, Its the only thing you get to keep, your live show. Very few people make money from their music, so you have to do the live show well. I try to put a lot into my live performance, and I think that comes out of playing with people like Sage, Buck, Dibbs… I need my live show to be just as interesting as my records, and in effect to translate them for me.
Chris:You're from a smaller town environment than say Montreal or Toronto. How do you find location (writing in a big city as opposed to writing in a small town) affects your writing process?
Sixtoo:Actually, I was born in Toronto, and lived there until I was 17, at which point I moved to the Maritimes…so technically I'm a big city kid, that moved to a smaller one, and then back to bigger ones. Halifax is that smaller city, the arts and music community there thrives, unfortunately you can only grow so much before you start feeling like big man on campus, or the spearhead of a rumor mill…. I like living in bigger cities… you can be anonymous if you want; It keeps you hungry and humble. It does affect my writing, but how, I'm not too sure. It's certainly more personal, which is why there is less and less vocal material making it to the light of day.
Chris:At this point in your career, what kind of pieces do you most look forward to composing? Do you get more excited working on 20 minute instrumentals akin to Survival Kit or more traditional hip-hop pieces with vocals?
Sixtoo:My days of doing "traditional" hiphop songs are pretty much over. I like working on music more so than being concerned with genre it will fit into. My upcoming record for Ninja is a huge departure. It basically takes my appetite as a record nerd and translates that into record production.
Chris:On your next release after "The Psyche Years", it looks like you're working with separately established artists from outside of hip-hop. What led you to this decision?
Sixtoo:I have wanted to work on other types of projects for some time now, but I still had commitments to labels and friends that I had to fulfill. I got some instruments a while back, but had never had any musical training. But once I started really getting into Bass and Keys…I found out that composing music with instruments is much easier than composing with a sampler… so now I'm doing a combination of the two. The problem is this…I like old records. Making new recordings sound like they are from a particular genre is hard… and that's my current challenge as a growing producer… emulating and adapting the sounds of recording genres instead of sampling records. As for working with "established" artists, I can only assume you mean Thierry and Norsola (from Godspeed)… Eric Craven (Hanged Up), Matthew Woodley (Plants and Animals). All those guys are friends, they live in the neighborhood that I moved to, and by default of being active musicians they ended up playing on my project, which I think it cool. I admire them all as musicians and equals, and have had the opportunity to share my music with them, and vice versa. Matt Kelly and P-love are the guys in my "band", and are my full time team…I couldn't have made this record without Matt being around. Damo Suzuki, on the other hand was someone that I had dreamed of collaborating with. I just thought he will kill it on one of my tracks…and he did.
Chris:Do you think is going to become a more popular method as artists seek to set themselves apart from everyone else?
Sixtoo:I don't know, but I can say that If you have a signature "sound" it is probably much easier to translate that with an instrument than by trying to find two samples in the same key. But my decision to use live instruments had more to do with not being able to find the records that have the sound that I wanted, than to set myself apart from other people. I am still a sample-based musician. I used the MPC to make this record, even though a lot of tracks sound like a band, so even thought its a new approach for me, its essentially the same thing.
Chris:How would you describe the sound on your upcoming record?
Sixtoo:It sounds like the records that I would like to sample. Heavy influences from french pop, psych rock, hiphop and a little bit of techno fx editing to seem current.
Its a little bit of everything. It pretty much sits where I think sampler music is at right now.
Chris:What's you favorite piece of musical equipment right now?
Sixtoo:My bass rig. 70's Custom Rickenbacker 4001 with P-Bass pickups, GK head and Eden 210 Cab.
Chris:I don't like worrying about all-time favorites, but what's the first classic Hip Hop record that pops into your head?
Sixtoo:Ultramag – Four Horsemen. One of my all-time faves.
Chris:What are your thoughts on the new pay-for-mp3s services out now? Do you think you would ever participate in them?
Sixtoo:Yeah, I mean, whatever. Its the same bullshit with a different distributor. Its the big bizness. I don't really care about it. Its another revenue stream that will allow me to make the music that I want to make. If Ninja wants to sell my mp3's, cool…whatever. I think an MP3 is a good way to promote yourself, but its not my preferred method of listening to anything. I like records, or at least a tangible product when I spend $10, some artwork, anything other than 1's and 0's.
Chris:You've had several sporadic WebPages over the years. Is the internet a medium you'd rather not communicate to your fans over?
Sixtoo:I go in phazes with the internet. I studied multimedia in school… but after seeing first hand what the new media community did to the arts community (in frisco during the boom) I just really want to part of it. That being said, I still need to promote myself and its a huge tool. I would prefer to meet fans at shows than to have them interpret what I might write online…yes. I like forums though… I like having access to other people that are into the same stuff as me, a community of professionals…
I have a love/hate thing with the internet. Yo, check me out, blah blah… www.sixtoo.net !
Chris:Several good hip hop acts have been signed and have albums coming out on punk labels. Do you think this is just exploring the link between the two genres (punk and hip hop) or is it just a symptom of the way the Hip Hop industry is currently.
Sixtoo:I think people are just looking for a way to put out their music that makes sense to them. I would much prefer to be doing honest business with someone on some DIY thing than to do stuff with a major, and get lost in the shuffle because I don't make them enough cash to be a concern. Since the mid 90's I have in some way or another been at odds with major label music, even though majors have produced lots of amazing records since then. Making music has nothing to do with selling music. I would prefer to have my music sold by someone who understands what it is before they exploit it. That's all.

Chris Harron

Interview with Sixtoo
by Chris Harron
Published on April 1st, 2004
Label:

Ninjatune

Where:

Canada

Website: