Interview: DJ Clever – Leftfield DnB Goes Offshore..

The American drum n' bass scene at times seems overshadowed by the heavyweights in the UK. But more and more DJs, producers and record labels are plugging away and forging their own unique sounds. NYC's Breakbeat Science has been a well-known player in the American and NYC scenes for years. Incidentally, that's where Brett Cleaver, AKA DJ Clever, got his foot in the door. Mr. Cleaver is the man behind NYC's Offshore Recordings. Offshore is unmistakably coming out with unique leftfield sounds that set it apart from the drum n' bass "norms". I had a chance to ask him a few burning questions.
Hey, what's your sign?
Aquarius, just had my b-day on the 12th! (Feb)
What drew you into drum n' bass and when was that?
I spent a semester living in London in the spring of 1998. Prior to that, I had a bunch of mix tapes, but it was living there that spawned my record buying. I was going out nearly every night to a Drum & Bass event and couldn't seem to get enough of it. When I got home that summer I had
about 60 records or so and bought turntables and my DJing career began.
You moved to New York City from Connecticut, was that intended specifically
for your DJ/production aspirations?
I moved to NYC to work at Breakbeat Science. Everything just sort of fell into place, but prior to that I was playing a few gigs here and there in CT. So, yes, the move was directly related to an attempt to further myself as a DJ and my music career.
What is your favorite way to express creativity these days?
Hmm, I try and express myself through my record label, Offshore. I choose tunes that I think are pushing drum n' bass and that make a bold statement in general. I put the majority of my energy into the label, although, I am trying to shift my energy to be equal amongst the label
and my DJing.
How did you hook up with Breakbeat Science?
I shopped at BBS occasionally when I lived in CT and made friends with one of the guys in the shop, Justin Hogan. He has since left, but he was the one who got me the in with BBS and was able to hook me up with a job. So, I pretty much owe it all to him.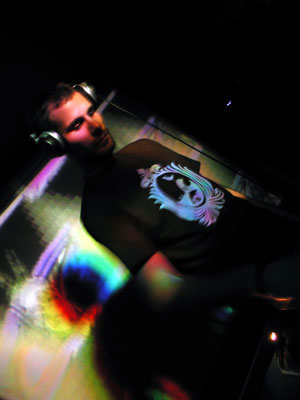 Dj Clever in the mix
What's the story behind the Xperience mix? How come there are no Offshore tracks on it?
Xperience Drum & Bass was mixed on the fly last minute. Basically, Moonshine wanted to license 10 tracks from BBS for a mix CD. They hadn't intended to have me mix it, but instead were just going to have someone mix it in a studio. However, the owners of BBS wanted someone from the store to mix it. They choose me due to my interest in the Breakbeat Science label and my choice of tunes. DJ Dara was doing a similar mix with the Breakbeat Science catalog. That was already planned before I mixed Xperience, and they knew that if I mixed it, there wouldn't be much overlap between the two. I tend to play the more obscure and deep bits. I am also fairly certain that my DJing abilities had something to do with my mixing it. No Offshore tracks appear on the mix because it was to be all Breakbeat Science tracks. The follow up mix to be released in April titled 'Total Drum & Bass', which I, too, mixed, will have two Offshore tracks on it.
Do your personal DJ/music tastes coincide with the stuff on the label?
Yes, I use Offshore as an outlet to release the stuff that I like and the first two releases are even tunes that I co-wrote with other producers. When I DJ, the majority of what I play comes from the Offshore catalog. I use my DJ sets to test tunes that I am either releasing on Offshore or
that I am considering. Not to mention, the label represents the vision that I have and the future of Drum & Bass for me in general.
Tell us about how Offshore got started and what your role in it is.
Offshore actually began as a partnership between myself and Brian Civitello (Anemone). At the time he had an abundance of tunes that he had done and wanted an outlet to release them. My work at Breakbeat Science provided me with knowledge of distribution etc, so it was a great match. He and I wrote 'Connect Four' and put that on the flip of a tune that Brian had done
'Rhythmic Possibilities. At the time Brian was living in Boston and both tunes were getting a great response up there. Offshore 001 was released in late 2001 as a domestic only release. It sold all right, but it was around that same time that Brian was making less and less drum & bass and
became slightly disenchanted with it. Once he decided that he no longer wanted to do the label, he offered it to me. I was reluctant at first, but got a great deal of support from James Clements (who would do a remix to appear as the next release). I compiled a demo to send out to distributors with this remix and tracks that I had done with Morgan Packard as Tundra. Vinyl UK
was interested and hence Offshore as you know it today (along with a great deal of help from so many people and incredible artists like ASC/Intex Systems, Deep Blue, Paradox, Nucleus, Justice, Neil Trix, Alpha Omega, Seba, Pieter K, Graphic and Sileni all wanting to get involved).
Where would you like to see it going?
I see the label continuing to push the boundaries of Drum & Bass and gain a greater following. I would like to have somewhat of a Metalheadz influence on the scene. When they began, they were doing some experimental stuff and had to create their own scene and sound. It just so happened that they had enough clout to make it a movement. A movement that actually changed
the face of Drum & Bass not only at the time but also for the future. I want this for Offshore.
Where do you see your DJing going?
I just want to continue to play out and keep introducing people to beats that they might not otherwise hear. I have already been to San Francisco and Philadelphia this year and there is a spring tour in the works with Deep Blue and myself and also a European tour at some point in the late spring/early summer. I should be making an appearance in London in May as well. So, again, I just really want to get out there and try to spread my vision.
What should people keep their ears open to in the near future?
There is a lot of stuff to keep an eye out for. There are loads of good labels that are trying to do what Offshore is doing and artists that are on the Offshore roster or will be that are trying to push the sound. A few labels other than Offshore are Breakbeat Science, Covert Operations,
Warm Communications, Paradox Music, Outsider, Bassbin, 720, Secret Operations, Droppin' Science, Street Beats, Inperspective and of course Reinforced. The artists that I would keep an eye on are ASC, Intex Systems, Deep Blue, Sileni, Paradox, Graphic, Seba, Pieter K, Justice, Neil Trix, Alpha Omega and Breakage.
What are you a geek about?
That is a tough question; you would have to ask my girlfriend to get the most accurate answer. There are so many things though.. I am really anal about stuff. For instance, I have records organized by label and catalog number and I also collect lots of stuff, from sneakers to toys and other odds & ends. I am highly organized and I 'geek out' on my computer quite a lot. I am into Macs for sure, so iBooks and iPods and external hard drives and electronic gadgets definitely hold my interest.
If you could launch one thing out of a catapult what would it be?
I don't know, possibly myself if I knew that I wouldn't get hurt.
How do you like your funk?
I like my funk to be found. For instance, some things are funky and sound funky, but in an obvious way. There are so many things that are funky but in an unorthodox way. That is how I like my funk, mysterious.
DJ Clever and Offshore are definitely names to look out for. Sample some of that mysterious, spacey funk for yourselves at www.offshore-recordings.com, or www.djclever.com.

The Lotus Queen

Interview: DJ Clever – Leftfield DnB Goes Offshore..
by The Lotus Queen
Published on March 3rd, 2003