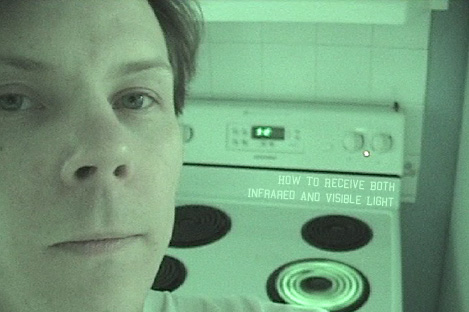 How to Receive Both Infrared and Visible Light
If you'll notice, the confines of this video are not just property lines. It is a video one can shoot without exposing the self to sunlight. Or neighbours. Or friends. Or goats.
True, sunlight has not been a concern to most on these winter days… to most. Pah! If sunlight does not burn thy skin, then perhaps you should spend more time outside. Yes, enjoy your precious sunlight. Breathe deep the outside air. WHILE IT LASTS.
We have all we need right here, my Digital8 camera and me. Food, water, electricity and shade… privacy. Sunlight be DAMNED!!! For when the sun is blotted by vast grey circular ships, I shall have no need. You won't see them. NONE OF YOU WILL. For they can not be seen by the human eye!
As the little grey men walk across the scorched surface of our planet, I shall witness their approach… by monitoring the INFRARED SPECTRUM.
Hello little friends. Yes I see you approaching. You zapped all the others with your deadly ray guns, but because I see you in my videocamera's infrared mode, I can wave. Friendly wave! Don't shoot! Don't eat! Friend!
What's that? You need someone to be your new leader? Why… at 5'6″… I'm not just big in charisma to you little grey folk… you actually look up to me. Here… here you go. This is what we on earth call "a pen". See!?! You can write with it. On paper? Do you have paper where you come from?
No? No paper huh? I have so much to teach you!
So long Earth. So long crispy fried earthlings…. I guess your SPF 50 was no protection from the grey's deadly ray guns… who would have thought?
Guess I'll just grab a pad of paper and a pen before we leave…. and my infrared camera. And its charger. Hope the grey's have AC outlets on their spaceships!
Wheeeeeeee! Up we gooooooooooooooooooo…

Gordon McDowell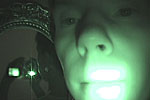 How to Receive Both Infrared and Visible Light
by Gordon McDowell
Published on January 1st, 2006