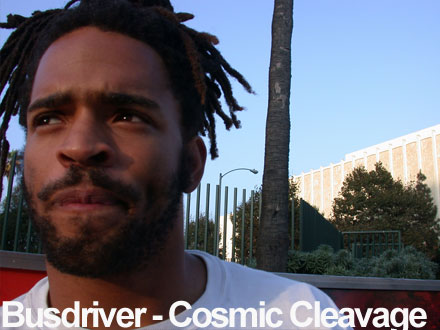 Busdriver – Cosmic Cleavage
Coming out of the same autistically charged LA Underground scene of the Goodlife Caf?, Busdriver is an addition to the established talents of Pharcyde, Jurrasic 5, Abstract Rude and Awol One.
Busdriver's album 'Cosmic Cleavage' is a distinctive album that has coasted off from typical hip hop by using jazz, down tempo, classical, and good old 1950's sounds, mixed in with some radio-style social commentary lyrics. This album could be compared to 'Ugly Duckling' in terms of its lyric style, but when time is taken to listen, it will also rouse your mind into recalling sounds vaguely like so many other echoes & hums, that direct examples cannot be precisely isolated.
Being original in this saturated day in age is rare, and this is an album which should be highly commended for doing so. If you are mentally astute, the lyrics are smart – pay attention. You would really have to be autistic or a bus driver in LA to come up with these bizarre and provoking librettos. For those of you at the end of the long work day who cannot muster up the brain power to listen quite that closely, the prevailing background beats will keep you as equally entertained.
Busdriver is so impressive that r4nt gives it an enthusiastic approval. Pick up a copy for yourself. Enjoy some well laid out turntable-isms from a voice and mind which is widely dynamic.

Pamela Hruska

Busdriver – Cosmic Cleavage
by Pamela Hruska
Published on May 1st, 2004
Artist:

Busdriver

Album:

Cosmic Cleavage

Label:

Big Dada

When:

April 19th, 2004

Rating:

8 / 10