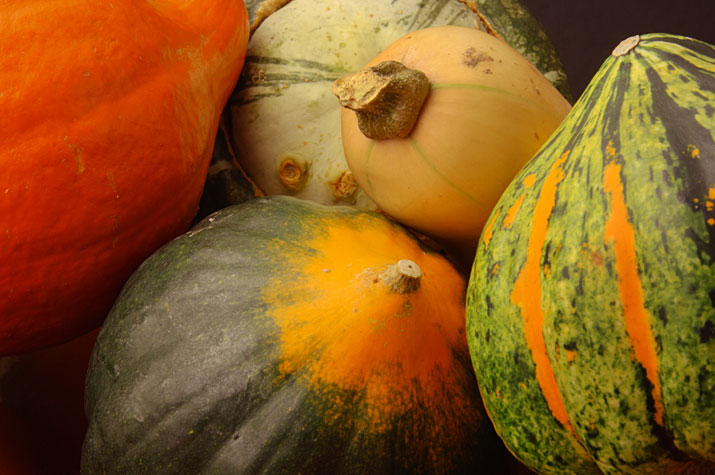 What the Squash?
For years I have been strolling by the squash pile at the supermarket, as these unassuming colorful and funny shaped items seemed only to be decorations. With no cornucopia of my own to fill with random gourds, I just stopped paying attention to the squash pile all together.
The tipping point for my new found appreciation for the squash bin started with a delicious butternut squash soup, introduced to me by my good friend. It is a thick butternut squash soup that is slightly buttery and nutty in flavor with just the right amount of spice. Make it a must to try!
Butternut Squash & Spinach Soup
1 tbsp oil
1 onion diced
3 cloves garlic minced
1 fresh jalapeno, seeded & chopped finely
5 cups vegetable stock or water
2 cups butternut squash, peeled and cubed
2 tbsp dark rum
1/4 tsp allspice
4 cups spinach leaves, julienned
1 cup coconut milk
salt & pepper to taste
Saute onion, garlic and jalapeno in oil. Add stock, squash, rum and allspice. Simmer until squash is tender. Puree until smooth. Add spinach leaves and coconut milk. Simmer for another 5 minutes, season to taste with salt and pepper.
After falling head over heels for butternut squash (I think it looks like beaker off the Muppets without facial characteristics), I moved into exploring the rest of the squash bin! The acorn squash was next up. It is small in size, dark green and orange in color, and shares a buttery flavor, similar to the butternut squash. It's insides are a pale orange, and if you are looking for a fun dinner idea, you can use this squash for flavor and also as it's own bowl!
Stuffed Acorn Squash
Cut the squash in half.
Scoop out the seeds.
Saute:
1 diced onion
1 chopped carrot
1 diced red pepper
2 stalks of celery, chopped
1/2 lb. ground turkey
1 clove of chopped garlic
1 tbsp of olive oil
2 tbsp rice vinegar
Simultaneously boil some brown rice.
Stuff each half acorn squash with 1 tbsp of butter, a scoop of rice, and then a scoop of your saute mix to top. Bake at 400 degrees F for one hour, or until the flesh of the squash is easily pierced by a fork.
The last squash I ventured into was the spaghetti squash! It is oval and bright yellow in color.
Spaghetti Squash
Slice it in half, add 1 tbsp of olive oil or butter to each half, and sprinkle with a tiny bit of cinnamon and nutmeg. Bake it until it is soft, (Approximately 45 minutes at 400 degrees F). Once you remove it from the oven you will be able to scape your fork along the inside of the squash to create spaghetti like strands of squashy goodness!
Stop ignoring the squash bin! They provide some different options to our winter diet which are packed full of nutrients and are delicious!

Pamela Hruska

What the Squash?
by Pamela Hruska
Published on February 20th, 2009