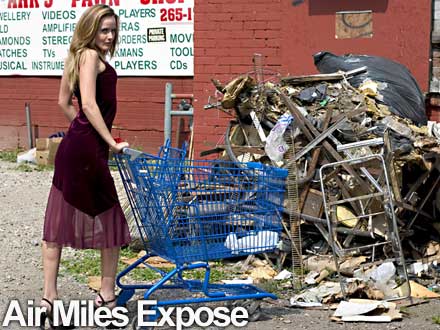 Air Miles Expose
Do you collect Air Miles? The Miles with the little blue card that you get (on average) 1 mile for every $20 you spend at a participating retailer? There are Air Miles collector systems in Canada, the UK, the Netherlands, Spain and the UAE. People around the world horde these miles waiting to redeem them for that dream vacation. I know – I started collecting in 1998 and have not redeemed one Mile yet. Nothing. No free trips, no free merchandise, not even a gift card. Why? Well at $20 bucks per mile it takes a long time to get up to anything good. A short haul flight off season costs 900 miles which means you have to spend $18,000 at a participating shop, but also because I have been waiting for the ?big redeem? for something awesome.
Recently I received my Air Miles statement in the mail showing me the number of miles I have accumulated over the last six (almost seven) years and decided ?That?s it – I?m going to redeem some of these and get me something for ?free??. I grab the little catalog that comes with my statement and start looking through it. Well, I think, I don?t have enough to get any electronics, I need something cheaper. Oh, kitchen appliances are cheaper ? I could get a cool stainless steel coffee maker and still have some points left over for a gift card or something. But wait? did I save up for seven years to get a free coffee maker? No, I need something bigger, more impressive, something that would make a better cocktail story ? did you hear about what I redeemed my air miles for? It?s a great story!
So I keep flipping, and get to the gift cards section. It occurred to me then that something odd was going on. Some gift cards were 365 points for $50 at a certain store, while other gift cards were 390 and 350 for $50. Also $25 cards weren?t half the points needed for $50 ? more like two thirds. There was some definite price discrimination in the Air Miles system. But that is to be expected right? Just like a small pop at the movies costs 50 cents less than a large but is half the size. Right, but I was then curious to find out what the best ?deal? was for my Air Miles. I then flipped past the entertainment options (tickets to movies, museums and sports events) and got to the flights. As you would expect, ?high season? tickets cost more than ?low season? rates, but I was curious, are these tickets a good deal or am I better off redeeming for a couple smaller things?
To do things right, I calculated the following table. I looked up the number of Air Miles needed for a certain destination and then looked up how much it would cost in Canadian dollars to purchase said item. That way I could calculate a dollars per Air Miles ratio. The lower the ratio the better the ?deal?, for example, if something cost 1000 Air Miles and cost $100 the ratio would be 10 Air Miles per dollar, but if it was 500 Air Miles and worth $100 the ratio would be 5 Air Miles per dollar. On the table, all flights were picked in a ?low season? period, leaving from Toronto for a booking four months in advance. I got the best price for these air tickets from www.kayak.com. I also adjusted the ratios you see below for the taxes that you still have to pay on your ?free ticket?, which is why the ratio isn?t a simple division of Air Miles by dollars. For merchandise, I obtained the price that you would pay at a large store in Canadian dollars (Future Shop and Best Buy etc.). The results were somewhat shocking due to the disparity of the ratios.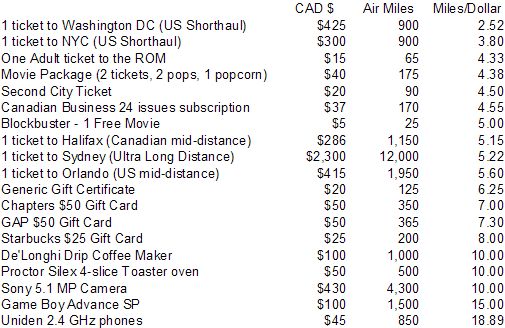 As you can see, the best deal is one ticket from Toronto to Washington DC, which comes in at 2.52 Miles per dollar. This is due to the fact that the actual price of the ticket is more expensive relative to the Air Miles needed. That contrasts with a flight to New York because the airfare is cheaper flying Toronto to New York due to the large number of carriers servicing that route. At the upper end of the spectrum is the merchandise. A larger rip off can hardly be imagined. Two Uniden 2.4 GHz cordless phones which go for $45 bucks at Future Shop cost you 850 Air Miles (ratio of 18.89) while the trip to Washington DC costs $425 dollars and only comes in at 900 Air Miles!
The above table is just a sample of some of the goods provided, but you can draw many parallels if you?re looking to redeem your Miles. Keep in mind that merchandise equals a bad deal as many of the goods here you can get on sale at discount retailers like Wal-Mart or Costco. The Gift Cards are of middle of the road value if you have some extra points sitting around, but the best deals are to be had in air travel. Not just anywhere however, pick your destination wisely. If you want to travel somewhere obscure, chances are it will cost more in dollars but will be of equal value in Air Miles so you?ll get a good ?deal?. This is demonstrated in the example that Toronto to Washington DC (not exactly obscure) is a much better deal than NYC or alternative Canadian destinations like Halifax. Also, stay away from ?vacation destinations? such as Orlando or Mexico as you?ll be able to find much cheaper deals on airfare through charters or last minute sales. And of course, if you are trying to redeem for points make sure you book months and months in advance because Air Miles has a limited number of seats. So when you look to redeem your Air Miles do so warily as the system is set up to trick the unaware into redeeming for items that are worth far less than air travel.

MaxPower

Air Miles Expose
by MaxPower
Published on November 1st, 2004