The Good Looking Organisation
Contributions:

3

Website:
Articles by The Good Looking Organisation: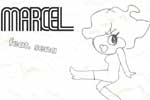 Marcel – Changes Colours Again
I Like To Tell Ya Thingz is the crown jewel of Marcel's and MC Conrad's collaboration. Conrad is more than just the narrator, he is playing the game. His distinctive voice feeding your addiction…
The 'Progression Sessions' compilation series is the seminal sound of Good Looking Records and the latest installment, recorded live from Space Lab Yellow in Tokyo, is an absolute gem. Mixed by Good Looking's man of the moment, Makoto and accompanied by the sweet soulful voice of GLO's first lady MC, Deeizm, you can't help but dig this.
LTJ Bukem's, Good Looking Organisation, is pleased to finally announce the arrival of the long awaited album, 'Human Elements', by the rising star from Japan, Makoto.