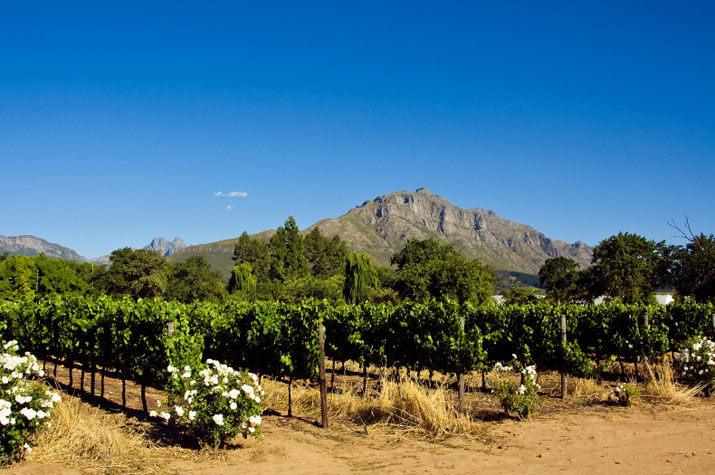 Stark РCond̩ Syrah
Stark РCond̩ Syrah
Vintage: 2005
Region: Stellenbosch (South Africa)
Varietal: Syrah
Alcohol: 14.5%
Price: $13.99
When you drink as much wine as I do, it makes sense to talk to and work with the staff at your local wine market. These people make their living selling, suggesting and sampling so it's good to meet them to find out about what they like and what's new. Sometimes, if you build enough of a relationship, they'll stash a special bottle away of something they really like or that is being liquidated for you. This is how I was introduced to this offering from Stark-Condé. For the most part, I typically stay away from South African wines, for no good reason other than I haven't had one that has really excited me or blown me away. Maybe this Syrah will change that.
Right off the bat, this wine and its presentation have some good things going for it. First off is the wrapper at the top of the bottle. How could this possibly matter? Well, lets consider the cost of materials. This wine wrapper is made of foil, which is more expensive to use than plastic which is typically found on most lower priced bottles. Next is the punt of the bottle, which on this bottle is reasonably deep. What is the punt you might ask? The punt is the divot at the bottom of the bottle, which some people believe that the deeper the punt, the better quality of the product within. Another nice attribute of this wine is the cork, which has vineyard printing and marketing information on it. Consider that these printed corks cost the vintner extra which may indicate a higher quality of product it is protecting. Whether you choose to believe these as indicators of quality, these can be helpful considerations for you as you choose your next bottle.
Ok, ok on to the wine. Color wise, this wine has a dark red, maroon almost black hue to it, which is interesting, probably due to the fact that it is unfined and unfiltered. On the nose, this is giving off a good combination of spice, coffee, toasted oak and smoke with a wee bit of berry fruit that is heavily masked by those initial tones. There is a bit of heat too, indicating that 14.5% alcohol is peeking through. Upon first taste and swish, the hints on the nose are punctuated and confirmed with in your face, smoky tannins that hammer the palate right away with a rich mouthfeel and those hints of sour berries at the end. It is finishing long and slightly hot with those smoky fruit tones hanging around for a good while. It is a very old world stylized effort produced in a new world region. So, what's the verdict? This wine is good, well no, in fact it is very good but it might not appeal to the masses due to that aggressive smoke and toast characteristics. Due to this, it could be viewed as being unbalanced but in my opinion it has enough complexity and uniqueness to excite and I would look at pairing it up with some grilled or roasted lamb, Camembert cheese or something gamey like venison (deer or elk). Either way, at $13.99, it is a solid buy (expect to pay double, if you can find it) that I would keep my eyes open for at subsequent visits to your local market .
86 points

Adrian Bryksa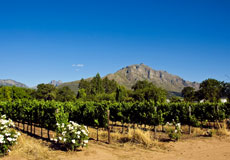 Stark РCond̩ Syrah
by Adrian Bryksa
Published on October 1st, 2008
Photos:

From the Stellenbosch mountains

Rating:

86 Points