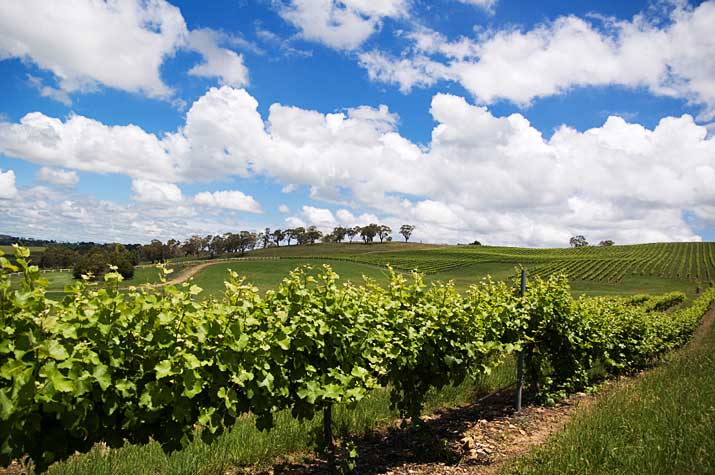 Nugan Estate Manuka Grove Vineyard Durif
Nugan Estate Manuka Grove Vineyard Durif
Vintage: 2004
Region: Riverina, New South Wales (Australia)
Varietal: Durif (Petite Syrah)
Alcohol: 15%
Price: $19.00
Certain wines are like old friends from time to time; kind of like ones that you really liked to hang out with for a while but then you found others and you sort of grew apart. That is a good description of my relationship with the 2004 vintage of the Nugan Estate Durif. I remember the day I first tried this wine and it was all I talked about with all my oenophile friends. I rushed out and bought as much as I could and stockpiled it in my cellar. Since then, many Merlots, Shirazes and Chardonnays have become between us. Now after 2 years, it is time to re-aquatint myself with this old chum from back in the day.
Coming out of the bottle, there is some sediment on the interior sides of the bottle which to me is good indicator and gets me excited. Into the glass, the wine exhibits a rich garnet color that is so deep that when put up to a halogen light cannot be seen through. Just tons of red berry fruit and prunes on the nose. The taste can only be described as powerful with bold yet settled tannins. Tons of body here with a full and firm mouth feel, this one is full of fruit and smoke, pepper, charcoal and spices that are so alluring and so aggressive that each sip is a marvel into what a full bodied red should be. The finish is lasting and the fruit delivers in what seem like waves. This is a red wine persons red wine, and it is unapologetic about it.
I served this wine with a Chicago Style Baseball Size Sirloin Steak and some Spaghetti with a Tomato Alfredo sauce. The charbroiled spicy exterior of the steak along with the rareness of the meat is an outstanding foil to this muscular red, with the deep red fruits really being exhibited on each taste. This one is definitely one you want to pair up with grilled meat, especially beef, bison or elk.
Sometime when you meet up again with those old friends, you wonder how you could have ever liked them. This is in fact, the exact opposite with the Nugan Estate Durif and I wish that I continued our relationship in the mean time. If you can find this wine, buy it. If you buy some and have a cellar, cellar it. If you want to impress someone, gift it. If you want your socks knocked off with your next steak, pop it and you will not be disappointed.
90 points
 

Adrian Bryksa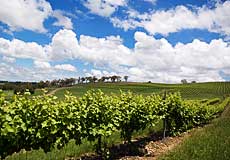 Nugan Estate Manuka Grove Vineyard Durif
by Adrian Bryksa
Published on September 10th, 2008
Photos:

From Orange NSW