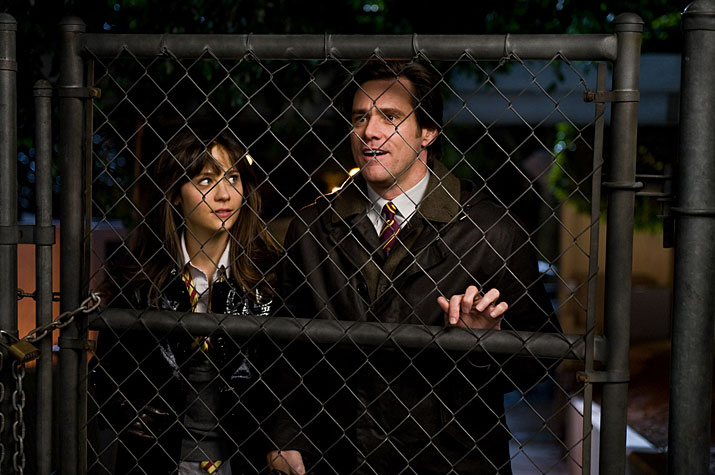 Yes Man
Routine. It's what keeps society ticking. School, jobs, breakfast, drinking, idealizing famous people, it's all routine.
Carl Allen (Jim Carrey), is the type of guy that's had a rough go. Married, divorced, same job for 5 years, renting movies every night and ignoring the world outside. I've known people like this, and it struck a bit of a cord. Depression is a serious issue in this day and age. Many people fill this void with indulgence in materialism (see the current state of affairs in todays economy, or watch this interesting TED talk on "Does happiness have a price tag?"). Routine and buying shit can't be the answer.
Life is all about experiences. Getting out and trying new things, meeting new people, learning, exploring and being alive.
Even though this movie is very tongue and cheek (pretty much par for the course for any Jim Carrey style comedy), I believe it will resonate with many at a deeper level. How many times in a day do you say "No," and why do you? How would your life change by leaving your comfort zone and extending into the "Yes" part of the world?
This is a very fun movie, with lots of laughs. Zooey Deschanel (Allison) has always been a cult favorite of mine since "The Hitchhiker's Guide to the Galaxy", and she is very lovable in this movie as well. Along with a great supporting cast, this movie provides a fast pace transformative experience.
Catch this film over the holidays and have a good laugh. It might spur some new years resolutions.

David Gluzman

Yes Man
by David Gluzman
Published on December 17th, 2008
Movie:

Yes Man

Director:

Peyton Reed

Cast:

Jim Carrey, Zooey Deschanel, Bradley Cooper, John Michael Higgins, Rhys Darby, Danny Masterson

Website: