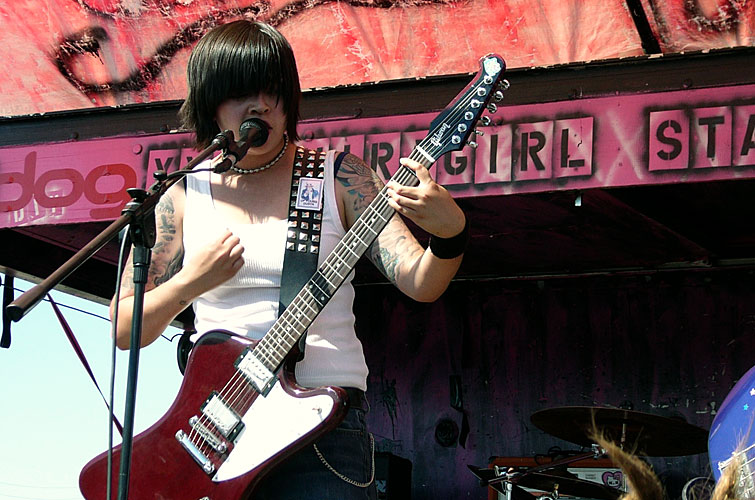 Warped Tour 2006
Being a old school punker, I decided to cover the 2006 iteration of the Vans Warped Tour presented by Cingular Wireless. Ok ok, I shouldn't be so bitter about the b.s. corporate sponsorship but damn, what is this shit about? For those of you who don't know, the Warped Tour has been in existence since 1995 and has been pleasing fans with showcasing tons of acts for so many years. I guess the sponsorship is a necessary evil, but it is plastered everywhere and is fucking annoying. I am honestly surprised that more bands don't blacklist the tour because of it, but if you want to tour all summer and get the maximum exposure for your band, the Warped Tour is the one to be on.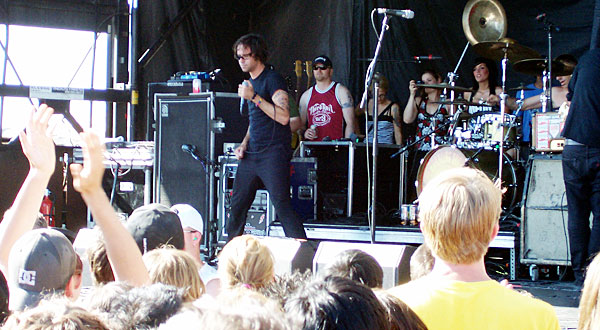 Bouncing Souls
I went to last years version of the Warped Tour and was disappointed. This was not with the show, but with my general approach to the day. We left before all of the headliners took the stage and generally I got way too trashed and got way too much sun and didn't have that great of a time. This year I vowed that it would be different. We left the city at about 1:30 and made it down to Race City Speedway at about 2:00pm. As we approached the entrance, the fragrant odor of marijuana smoke mixed with dust filled the air and the sound of amplified guitars greeted us. We knew we were going to be in for a time, not sure if it was gonna be good or bad. We zipped through security (so lax) and were greeted by thousands of fans, enjoying the first few acts of the day.
The Warped Tour is a bit different from other shows in that you don't know what acts are playing on what stage and when. Since bands fall off and on the tour all summer, there is never a set schedule which makes planning the days sets a challenge for organizers. Typically, you have to zoom down to the main stages and look at the band board to get an idea of the schedule of the bands that are playing. See Photo. This aspect makes preparation for the day key. If you are going to outside for 7 to 8 hours in the middle of the day, you need to have an ample supply of sunscreen, water, tobacco (if you smoke) and food. I mean, most of these things are available there, but if you have to buy any of the above, you are looking at an expensive day. I recommend smuggling in your own liquor and food as beer is the alcoholic beverage du jour and it is available at the low, low price of $6.00 per can. There can also be some downtime, so people bring foot bags, Frisbees and spliffs to pass the time between acts. If you do decide that you want to partake in the vendor food, expect to pay $5.00 and wait for about an hour in line for a hamburger which consists of a just a patty in a bun. Nothing glamorous so don't expect sushi.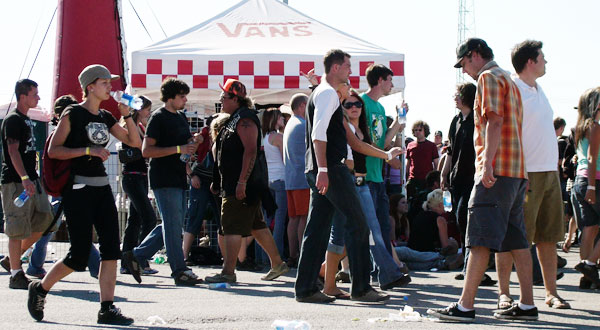 The Crowd
Once we found out what acts we wanted to see, it was time to explore the merch tents and see if there was anything that was worth taking a look at. At this point, it seemed to be a good time to do some people watching as well. There are all kinds that go to the Warped Tour and if you want to see a variety of people in various stages of tatootedness and undress, you have come to the right spot. During our exploration, we made our way to the beer gardens to do some FBI (Fine Booty Inspection) work and see if we could see anyone we knew. We waited in line (expect to do a lot of this at the Warped Tour) and gained access after about 30 minutes. The beer gardens are a fenced off area that consists of what seemed to be a thousand people, a few battered picnic tables, thousands of empty Canadian cans and a ton of security guards that reminded me of a frat party prison. If you need to drink to have a good time, it might be worth the wait. BYOB is the way to go here.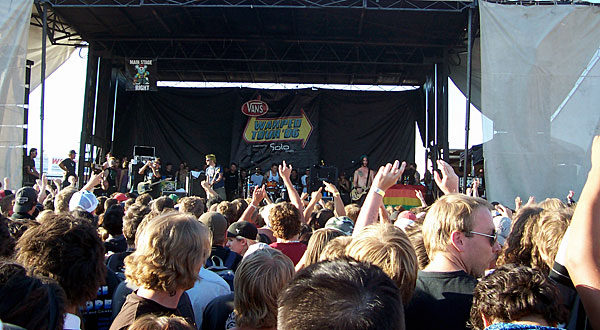 NOFX
From our beer and exotic vistas, we decide to make our way down to the main stages and we were side tracked by a local group called Kilbourne. This screamo quartet managed to attract quite a crowd to their 20 minute set. Much props out to the group for bringing some grrrl aggression to the testosterone fueled tour.
From Kilbournes rad set, we made our way down to the Main stage to check out Less Than Jake. These clowns are a sardonic pop punk group out of Madrid, Spain. (at least as per the show) I must say that I really don't respect the band's music (ska infused pop punk) all that much, but I have to give them props out for some intense energy and some truly mindless between song antics. I liked how they attempted to steal The Casualties shtick and attempted to make the crowd do a circle mosh around the Vans sound tent. Although it failed, it punctuated the general 'fuck you' attitude this band embodies and it was nice to see them hit their stride.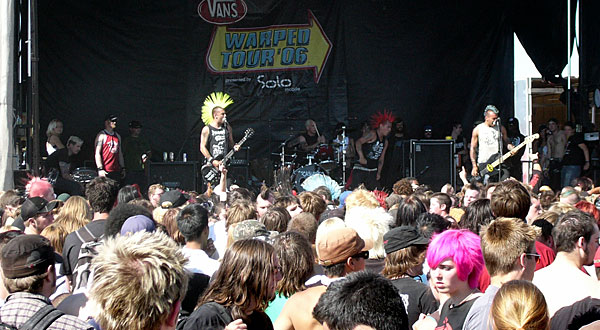 The Casualties
The next act we made a point of seeing was Bouncing Souls. These guys are a personal favorite of mine and I have been listening to them for a long time. The 30 minute set was not enough to showcase their tremendous catalogue of tracks. They were however able to do a few old tracks such as 'I Like Your Mom' and 'Argyle'. Highlights of their set for me were 'K8 is Great', 'Sing Along Forever' and the antics of the lead singer and bassist trying on articles of clothing thrown at them by the crowd. Do yourself a favor and check these guys out next time they roll through town.
The next act on the agenda was AFI. Their show was one of the first I went to in Calgary and it was easily one of the most violent shows I have ever went to. Since then, with the �emo� movement growth, they have gained commercial success and lightened their sound considerably. To me, they just did not belong on the Warped Tour. AFI need to be playing in some dark club or auditorium with light effects and smoke. The vocals were terrible and they managed to play tracks off their new album which didn�t excite me in the least. It was nice to see NoFX trigger the crowd to start a chant to get AFI off the stage.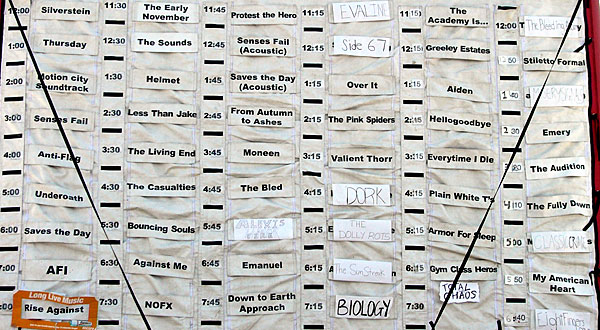 Tour Band Board
NoFX was the next band and their set had such a great buildup. Sadly, the band had a bit of a hissy fit that they were not voted the most sought after act for the day (that band plays an extra 10 minutes), and talked more than they played. I think with a group like NoFX, you need to see them in a show they are headlining where they can stretch out their legs and get into a set. Fat Mike had some commentary about religion (he hates it all) which got the crowd wound up. Overall, they were a let down, but I think they would be off the chain if they had a chance to witness their complete show. I have to give mad props however out to the little hottie that ground herself into me during the set. DTA baby and thanks for the memories.
The final act was Rise Against who were the band on everyone's list. This Chicago based outfit are veterans of the punk scene who have a social message and scorching tracks to go with it. They started their set off with my favorite track (Black Masks and Gasoline) and the set built from there. They blew the house down and I do not think there was a disappointed person leaving the speedway after their set. If you are a fan of punk, metal or aggressive music in general, you need to give Rise Against a chance. They are easily the most played group on my iPod right now.
From this writers perspective, the Warped Tour was an amazing event this year. I will continue to attend and show support for these acts. As for Cingular Wireless and the rest of the corporate slime…

Adrian Bryksa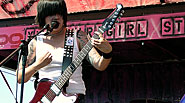 Warped Tour 2006
by Adrian Bryksa
Published on July 23rd, 2006
When:

July 21st, 2006

Where:

RaceCity Speedway (Calgary, AB)

Photos:

By KJ and Ducati AGB

Website: