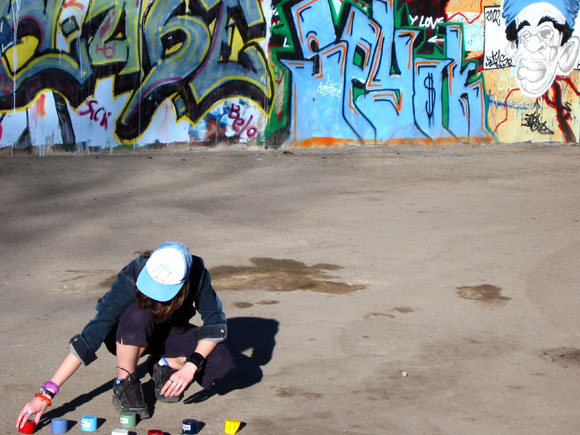 Tosca – Dehli9
Dreamy, dubby, and *gasp* housey…
Unless I'm on drugs or with a girlie that loves to dance (unfortunately both rare situations by the way), I can't get down to "funkee house muzak," it just doesn't get me off. So when I heard that the new Tosca album was a bit more housey than their prior releases, the outlook was doubtful for Dehli9 to become the great downtempo album of 2003. Yes, the record is kind of housey. Yes, I thoroughly enjoyed (most of) it. No, Dehli9 is not the great downtempo album of 2003.
One can't deny the formula of Tosca; Richard Dorfmeister's warm but banging beats and Rupert Huber's eerie and beautiful piano melodies. And Suzuki, Tosca's 2000 release, still sounds better than most of the loungey shiat out there today. But instead of creating another re-hashed Suzuki, they've moved on, both speeding up the tempo on some tracks and slowing them down on others. Sometimes it works and sometimes it doesn't, but overall Dehli9 is a worthy purchase (keep in mind you're reading this claim from someone who will buy virtually anything that remotely has to do with Mr. Dorfmeister, hell I'd probably by a Celine Dion record if Dr. Richard remixed it.).
Dehli9 opens with "Oscar," a stripped down track with some salsa flavor and it contains all of the Tosca essentials- the sexy humming and cooing of Anna Clementi, organic baselines and subtle but always interesting percussion. Two of the slow-mo tracks are "Me and Yoko Ono" and "Everyday and Every Night." The first is heavy and both impressively and painfully slow, but "Every Day…" is the better of the two slow jams. With G-Stone emcee Sugar B whispering in the shadows, this minimal dub-tech joint serves as an intense dream sequence soundtrack Think red lights and bewilderment in Amsterdam at 4:20am.
"Mango di Bango" is a mid-tempo cut that shamelessly but effectively bites the ever so catchy baseline from The Notorious B.I.G.'s (yeah that's right) "Hypnotize" and puts the signature Tosca sound over it; simple but euphoric piano melodies and rolling&tumbling rhythms. It is by far the standout track on the album. There are some so-so housey songs like "Gute Laune" and "Rolf Royce" that are saved from the banality of their 4/4 house rhythm by being laced with dubby echoes and reverb throughout. And for those who want to get even more intense with their incense, Tosca threw in twelve numbers that are strictly piano sessions- no beats and or other sounds. When I listened to these sessions by myself I kind of got sad, regardless, it's a unique touch to finish out the record.
Though skeptics and critics decree Dehli9 as a mere average release, it should easily quench your thirst for some new Tosca, much more so then Thievery Corporation's Richest Man in Babylon did for 18th. St. Lounge fans. Mr. Dorfmeister, have we lost you to house music? Answer: Not yet

a parallel mechanic

Tosca – Dehli9
by a parallel mechanic
Published on April 1st, 2003
Artist:

Tosca

Album:

Dehli9

Label:

G-Stone

Rating:

3 out of 5 wrenches