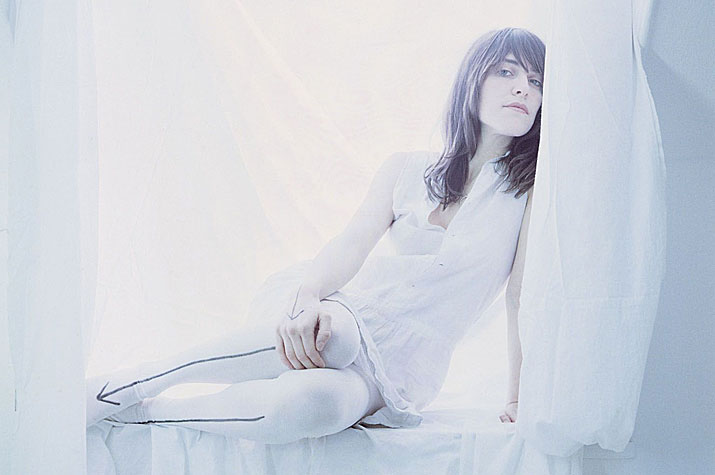 Still feisty and still charming
The first time I ever saw Leslie Feist play was in the 700-person capacity Starlite Room, just off of gritty Jasper Avenue in downtown Edmonton. She was charming, she was sexy, and she showed that she was force to be reckoned within the music industry.
Now five years later and in a venue 24 times bigger, Feist has not changed one bit, even after seeing her perform at the 17,000-seat Rexall Place last night. In which was probably the biggest hipster gathering of 2008, Feist was as playful and entertaining as ever, swooning through a long list of songs from her two albums including a jazzy version of Inside and Out, which was introduced as a cover of Guns and Roses' November Rain to invoke a sea of waving lighters and cell phones. In a red dress that could have been worn by Michelle Pfeiffer in the movie Scarface, she brandished her guitar like a true rock star, banging her head and pumping her fist occasionally. The last time I ever saw so many people smitten at Rexall would have been two years ago when the Oilers made their last worthy run at the Stanley Cup.
Ontario artist Hayden was a gracious and talented opening act, but looked almost uncomfortable, like a student performing at a high school talent show. Despite this criticism, I enjoyed his set and the army of cardigans and scarves around me seemed to as well.
When Feist made her way onto the stage, she brought with her a humility that is rarely seen in the music biz these days. The former-Broken Social Scenester brought a love to the building that would have made Mark Messier shed a couple of tears. Using an engaging but simple show of shadows and silhouettes on a screen behind her, Feist did the impossible – she made the cold, concrete building in north Edmonton feel like we were in a small club. At one point she even asked to the crowd to poor their drinks on the floor in an attempt to replicate the sticky-bar ambiance.
I was skeptical after paying my 60 bucks to see the new, big time version of my beloved Feist. I was pissed that the ex-punk rocker from Calgary had blown up so big that she was appearing on fucking iPod commercials and Sesame Street. But even within the walls of Rexall, where seven-dollar beer is chewed down, and a giant oil rig looms from the ceiling, Feist did the unimaginable – she made Rexall feel intimate.
Man, her and Broken Social Scene front-guy Kevin Drew are going to make some cool-ass babies.

Gen Handley

Still feisty and still charming
by Gen Handley
Published on October 18th, 2008
Sloppy fun: An interview with Jason Collett

The soon-to-be father of four is once again making his way across Canada, serenading a solid legion of fans and creating new ones along the way. He was one of the founding fathers of Broken Social Scene but has since taken his own route, one that isn't as flashy, but is still heading in the right direction.