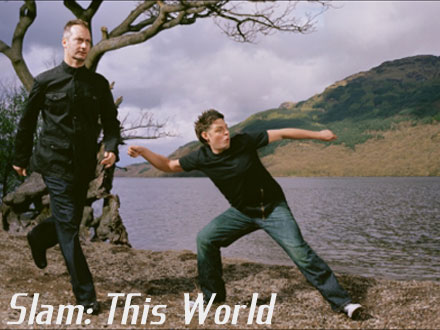 Slam – This World
Slam return with the next single to be taken from their ?Year Zero? album, ?This World? features the extraordinary vocal talents of Chicago?s Tyrone ?Visionary? Palmer.
?Year Zero? is Slam at their most accomplished and album opener ?This World? is one of the strongest tracks on there. A prescient social commentary is channelled through Tyrone?s soulful voice. "We?d been listening to Prince's 'Sign O' The Times'," Stuart admits, "and wanted to write something similar but relevant to now, though it's not just about the war in Iraq." Orde reflects that after "too many evenings in foreign hotel rooms watching News 24", it was a song they felt had to be written.
Tyrone appeared on Slam?s last opus ?Alien Radio? with the hugely successful ?Lifetimes?, this is the track which Slam consider to be the most requested at their gigs. Tyrone is also Felix Da Housecat's vocalist of choice and appears on ?Ready To Wear? and ?Neon Human? on his recent album ?Devin Dazzle & The Neon Fever?.
He has been doing vocals on Slam's live tour and "This World" has been one of the highlights of recent gigs.
For the first twelve we have an exclusive Slam extended mix that exemplifies the majesty of the song. Phil Kieran delivers one of his strongest mixes to date with his floor busting re-work. Phil and Slam have been playing this off Cdr for a while now to unbelievable responses.
The second twelve showcases remixes from some of the hottest talent making electronic music at the moment. From Germany?s minimal techno scene comes a mix the sensational Wighnomy Brothers, also known as Robag Wrauhme, he has delivered an epic, grooving dancefloor monster for fans of the Kompakt style sound. The package is completed with a beast of a mix from the Dahlback funk family! Jasper and cousin John team-up in their Hugg & Pepp guise for an exclusive remix, Tiga has already declared this THE BOMB! Playing it extensively from CDR.
Audio
Video
Many thanks to 'Soma Recordings' for supplying this special feature. For more information checkout http://www.somarecords.com/

Soma Records

Slam – This World
by Soma Records
Published on January 1st, 2005
Envoy – Shoulder2Shoulder

The title track from his forthcoming album, is an agitated cross between the martian sounds of Red Planet and the techno punk of Green Velvet