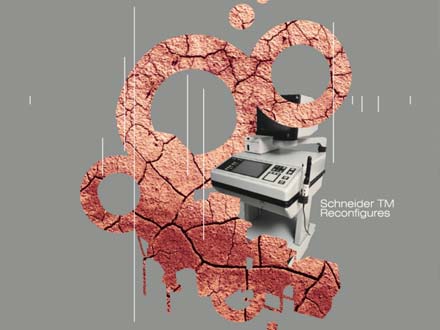 Schneider TM – Reconfigures
On behalf of our friends at EarSugar we have the pleasure of presenting to you the 'direct to file' hyperlinks of two full-length audio streams (in both Real Audio & Windows Media), from the album 'Reconfigures' by Schneider TM.
Some of Dirk Dresselhaus' favourite music includes The Velvet Underground, Sonic Youth, Richard D. James, Autechre, Sun Ra, Shuggie Otis and Daniel Johnston. One of his particular favourites is Neil Young's 1982 album 'Trans', where nearly everything was played through a vocoder. 'It's definitely one of my main influences for doing the Schneider TM stuff. It's a really strange record, really great'.
Schneider TM's acclaimed second album 'Zoomer' was recorded in Dirk's Berlin living room studio and released on the City Slang label in September 2002. Since then he has traveled 'Zoomer' around the world with a 3-piece band comprising of longtime friends and collaborators Kpt Michigan and Christian Obermaier. Together they have played 130 live shows in the last year and a half alone and taken in most of Europe, the US, Japan, Brazil…
Summer of 2003 saw the group playing festivals that included a memorable show at S'nar in Barcelona. By the end of the year, Schneider TM were invited back to the UK for a full headline tour as well as by the BBC, to capture Schneider TM live in session for John Peel's programme. Peel had been a strong supporter of the 'Zoomer' album as well as Schneider's now classic Smith's cover version 'The Light 3000' recorded as collaboration with band member Kpt Michigan.
In February 2004, Schneider TM performed show number 130, appearing at the increasingly renowned Transmediale festival in Berlin. 'This festival is probably one of the best festivals we've ever participated in. It's not too big, there's so much different music, all kinds of electronic and noise music.'
'I think the situation in Berlin is quite extraordinary because it is very cheap to live here, so you can afford a more relaxed way of working. So people get deeper into what they want to create.'
As part of the driving force behind Transmediale, the Berlin-based duo Rechenzentrum have had a particularly strong influence on Dirk's immediate musical environment. On 'Reconfigures', the collaboration with Rechenzentrum saw the addition of vocals from German indie rocker Marc Marcovic 'which was a total coincidence,' admits Dirk. 'We were just having a beer at my place one evening and I was playing the track. Then we decided to record his voice, and I was dubbing it live… we were jamming together, playing guitar and singing strange lyrics in fantasy languages and stuff'
After having remixed The Faint's 'Conductor', Schneider TM were invited by the band on a 28-date tour of the U.S. 'The America tour topped all expectations basically,' says Dirk. 'We had the chance to play in front of a really big audience every night with between 800 ' 1,800 people. So many people didn't know about Schneider TM and hadn't heard this kind of music at all before and that was a really good situation. We felt a little bit freaky… like the Velvets in the Sixties… but people really liked us! '.
Improvisation is also a key part of Schneider's approach, so a recent chance to perform a live version of Dirk's take on a Turtle Bay Country Club track was welcome. TBCC is the project of legendary Hamburg reggae and hip-hop producer, Matthias Arfman (who mixed several tracks on 'Zoomer') and the line-up for Schneider TM's show in Hamburg included James Brown and Bootsy Collins drummer, Tony Cook. 'We played my remix together ' using the basic tracks and he played over it. He's the funk! I was playing six-string bass, really fuzzy, more of a noise thing over it all, really fucked it up. And he was like 'yeah, yeah man, you're really good on this thing, keep playing it'.
Dirk's approach to Lambchop's 'The New Cobweb Summer' is a classic example of his 'versioning' technique. 'In some tracks the piano or vocal, I cut up and put it in a straight tempo and some other sounds like the saxophone. I sample them and play new things on the MIDI keyboard with the original sounds so there's a lot of original sounds it in but played completely differently. It's about using original tracks and also seeing if it's possible to add new material and what kind of direction you can go in. I try to treat the songs as though they were my own songs and give them a Schneider TM dress.' Recorded by Schneider in Lanzarote, this mix of 'Cobweb' is definitely a summer dress.
Speaking of summer, it was at a festival in Switzerland where Dirk met the Manchester duo Lamb. After seeing Schneider TM perform, Lamb's Andy Barlow and vocalist Lou Rhodes asked Dirk to 'version' some of their material, the result being Schneider's remake of the Lamb track 'Wonder', a restyle that is exclusive to 'Reconfigures'.
'The way I do music, for example, it's very much a reflection of life. Basically it's folk music I would say. From the main vibe, telling strange fluid stories about whatever and everything you see, or I see, or we see or whatever, somehow affects the music very much. It's difficult to do political music but music is more often alternative to politics because…music connects people so well.'
There are many more stories, have a listen.
Song Title: 'Pulseprogramming'
Windows Media Stream
Real Media Stream
Song Title: 'Margo'
Windows Media Stream
Real Media Stream
Many thanks to 'EarSugar' for supplying this special feature. For more information checkout www.earsugar.com
t'

Ear Sugar

Schneider TM – Reconfigures
by Ear Sugar
Published on April 1st, 2004