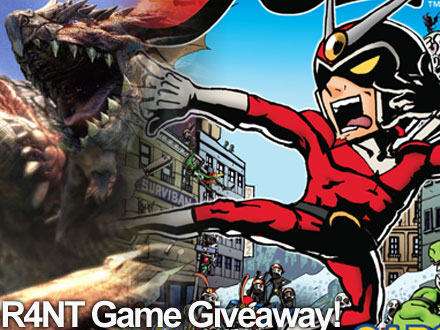 R4NT Game Giveaway!
Just when you thought we had turned to the dark side last month with all the Xbox coverage; we have bounced back with a PS2 Game Giveaway!
We have 2 copies of Viewtiful Joe, 1 copy of Monster Hunter, 2 Tshirts, and 1 strategy guide to give away to a few lucky R4NT readers.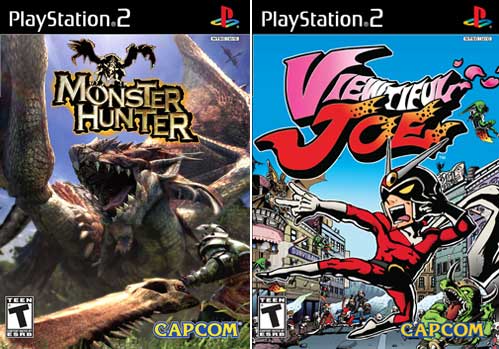 All you need to do to be entered in the draw is register & POST A MESSAGE in our forum in the PS2 Game Giveaway Thread (located in Discussions). Remember you need to register in order to qualify!
Meanwhile if you need further convincing to spend a 2 minutes registering to win these prizes, checkout some of the features..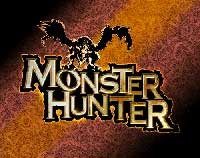 In Monster Hunter, creatures from all walks of life coexist with mankind.
The struggle to hunt or be hunted rules the world. Players face a variety of quests and battle against powerful beings either alone offline or with the aid of others in online gameplay. Objectives vary from defeating specific beasts, protecting a town or collecting items. Hunters are richly rewarded for every accomplished objective or efforts put forth during battle, allowing them upgrade weapons and equipment. The world continues to expand as difficult missions are successfully accomplished.
Key Features:
– Online and offline gameplay options – Up to four friends can play simultaneously online to hunt monsters and accomplish various objectives or choose to single handedly complete missions offline.
– Character customization – Players can create and modify their main character. Various customizable attributes include name, gender, hairstyle, face and voice
– Create your own unique equipment – Not only can weapons and armor be obtained by purchasing them, but can also be created from monster claws, scales and various materials collected
– Expanded online content – For additional replay value, new quests featuring unique sets of enemies and objectives can be accessed online.
Special items will be rewarded to players for completing only these new missions.
Visit the official site to download wallpaper, art, or to view trailers.
http://www.capcom.com/monster/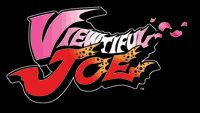 HENSHIN-A-GO-GO-BABY!
Lights! Camera! Action! Welcome to the world of Viewtiful Joe! Previously only available on Nintendo GameCube, Viewtiful Joe made his PlayStation 2 debut on August 24, 2004! Viewtiful Joe mixes funny cartoon style visuals and classic side-scrolling gameplay with an innovative new combat system that allows you to use the power of Hollywood visual effects. Joe is just your average guy…until his girl, Silvia, is pulled into a crazy, stunt-filled action movie world and he must transform into the ultimate superhero to rescue her from the clutches of evil! Playing as Joe, you must activate the correct VFX mode like SLOW, ZOOM IN or MACH SPEED to clobber your enemies with viewtiful style!
GAME FEATURES
– Innovative 2-D/3-D Hybrid action and stunning visual effects…they are viewtiful
– Totally unique combat system. Use VFX Power to obliterate your enemy
– Play through again and again to unlock excellent playable characters!
– Play as Dante from Devil May Cry on the PlayStation 2 Version!
– Vividly comic and funny cartoon-style visuals…a living breathing comic book meets Hong Kong action film!
Official site: http://capcom.com/v-joe

R4NT
R4NT Game Giveaway!
by R4NT
Published on October 1st, 2004