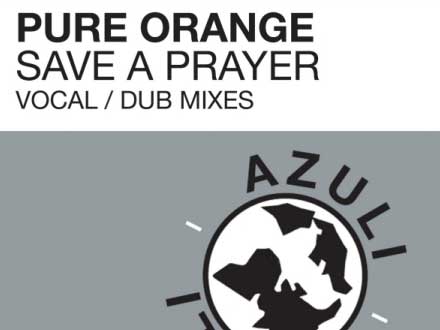 Pure Orange – Save A Prayer
There really is no stopping a certain producer at the moment. Jeremy Sylvester is back again under his Pure Orange moniker with a classic track that was originally a hit back, way back, in 1982 for Duran Duran. Pure Orange previously had a hit in 2003 with ?Feel Alive? on stealth.
A funky disco bassline drives this track through its reworked vocal, with sexy, soft, swooshy 80?s synths this has definite sing-a-long qualities that will doubtless make it a hit on the dancefloor.
Pure Orange: Save A Prayer (Vocal Mix)
Pure Orange: Save A Prayer (Dub Mix)
Many thanks to 'Azuli Records' for supplying this special feature. For more information checkout http://www.azuli.com/

Azuli Records

Pure Orange – Save A Prayer
by Azuli Records
Published on January 1st, 2005