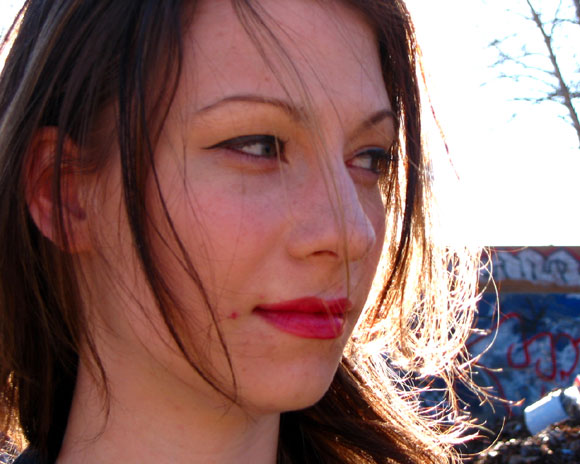 Mr.Scruff Video DVD
"How many wheels does your car have? Not as many as this one! The new 12 wheel squirrel"
Who the heck is Mr. Scruff you say? Well if you've seen the new Lincoln Navigator commercials with a really catchy beat then you've heard the Scruff at work. That track is "Get a move on" which originally was featured on "Keep it Unreal (1999)" which is a mighty fine album.
As more and more artists start releasing DVD content for the masses it's getting harder to sift thru the quality and the nursing homes. Mr. Scruff's attempt at a DVD release is a bit different than most seeing how Mr. Scruff is also a talented artist (he actually was an art student prior to being a musician) and produced all the animated features on this DVD.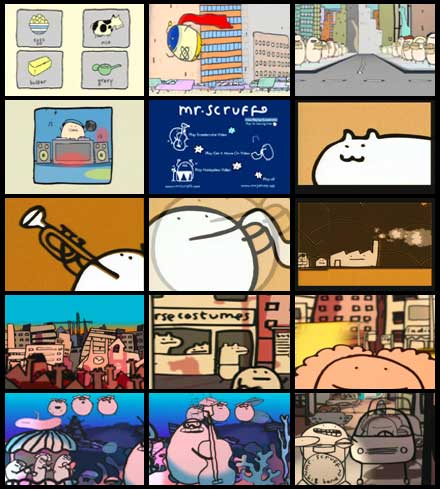 Screenshots from the DVD
The DVD features 3 video tracks: Sweet Smoke (Trouser Jazz – 2002), Get a move on and Honeydew (Keep it Unreal 1999). All these tracks are the cream of the crop from Scruff, and are worth compiling on your next minidisc. As for the videos attached to theses tracks they are nothing short of awesome. Each hand drawn animation absorbs you into super detailed new worlds, featuring such things as, Pie Shops, Dinosaurs, Pet shops that sell Zoo Animals, Robot Shops, Super Heroes, Sausage World, Horse Costumes, and many more unique things and places. Mr. Scruffs animation techniques are wicked fun to watch and the replay-ability is high. I know I've watched "Honeydew" a good dozen or so times, and I still can't get enough.
As an added bonus the DVD features two full fledged audio tracks of "Sweet Smoke" and "It's Dancing Time (Mr.Scruff vs. Quantic)". One of the sour point here is you must listen to these in your DVD player (no enhanced Audio CD functions here ladies). My only other complaint is that this DVD is a little sparse to have been released on it's own (3 Videos + 2 Audio tracks), and would have been more fitted for a combo release with an Audio CD of some sorts (*cough* Funki Porcini – Fast Asleep).
If you are a starving Mr. Scruff fan there is no question that you'll be picking this up; then again if are an avid follower of all things Ninjatune you'll also be picking this up. For everyone else out there you "should" pick this up, since it's a great amount of fun combined with some upbeat funky tracks to compliment any living room, house party, or smoke session.
*NB. R4NT Issue: 2.11 had featured the first video from this DVD, you can watch it again here: Windows Media or Real Video

David Gluzman
Mr.Scruff Video DVD
by David Gluzman
Published on April 1st, 2003
Artist:

Mr.Scruff

Album:

Mr.Scruff Video DVD

Label:

Ninja Tune

When:

February 2003

Rating:

4/5