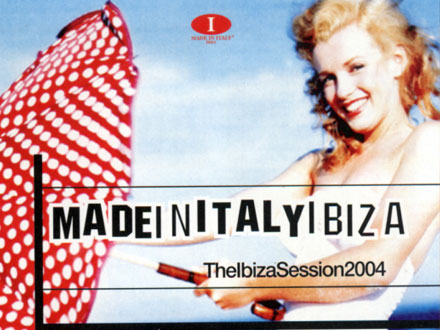 Made In Italy Ibiza – Sessions 2k4
On behalf of our friends at Azuli we have three audio streams you may like to offer your readers, featuring some tailor made grooves, from an album celebrating one of Ibiza's hottest club nights, Made In Italy Ibiza – The Ibiza Sessions 2004. The summer anthem and former UK #1, Shapeshifters LOLA'S THEME, Deep Dish's FLASH DANCE and PLEASURE FROM THE BASS by Tiga.
With the slogan used by the writer Kenneth Anger to describe Hollywood, the place existing in our imagination, ahead of geographic space, the music of "Made in Italy" becomes the way to evoke worlds, to project us in a far away dimension in space and time, where to construct our personal cinema adventure.
Entering Amnesia on Fridays, we find ourselves all of a sudden on the set of our most vivid a imaginary film. We are projected in a three- dimensional city where lights and images arouse our senses, our heart and our mind.
To participate to the events of "Made in Italy" is like travelling in the company of our heroes, asking the club to materialize our dreams and to make them real; in other words to make us feel as a principal performer in on adventure, that happens within the legendary studios of Los Angeles, the Cannes Cinema Festival or the night of Oscars.
"Made in Italy", during Summer 2004, bestows homage to the most famous factory of emotions on the planet.
The rhythm selected by DJ's, the films, all of which of high a learned standard, projected in Amnesia, the machinery used for special effects, each contribute to create a story, each night different and not repeatable.
To mention one of the most outstanding and less known film of Francis Ford Coppola, "Made in Italy" in Amnesia is "A LONG DAY DREAM",(or should we say a night), in which to relax wandering in the charm of Hollywood, constructing our own personal film that only us during party and festivals will be the Scenario Writer, the Producer and principal actors, together with all other Stars that will gather on the dance floor of Amnesia.
(credit: www.madeinitalyibiza.com)
1.
Artist: Shapeshifters
Song Title: Lola's Theme (alternative mix)

2.
Artist: Deep Dish
Song Title: Flashdance

3.
Artist: Tiga
Song Title: Pleasure From The Bass


Azuli Records

Made In Italy Ibiza – Sessions 2k4
by Azuli Records
Published on August 1st, 2004