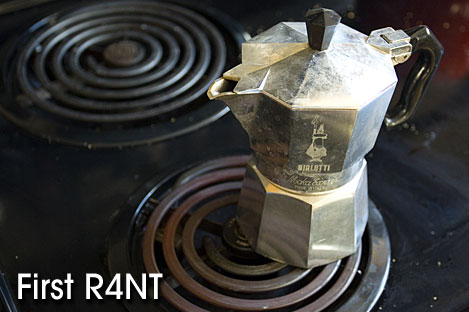 First R4NT
Do you remember the first time you ever read r4nt? I do. I remember because it was the original issue, and it wasn't even live on the internet yet. It was forged in a small town house on the south west side of Calgary, and it sure didn't seem like something that would last as long as it has.
When Dave originally asked me about his idea for the site, I thought it was good, but I remember saying, OUT LOUD, that I didn't think there was enough content. "What would we even write about?" I asked. Looking back at the skein of whole thing, I find that first notion so absolutely ridiculous that it borders on making me look stupid. We've covered a lot of ground in four and a half years. FOUR AND HALF YEARS. That's a long bloody time. I can look back at the pieces and actually chart a path of my life from my own work and those that surrounded it. I can see the beautiful evolution of the look and feel of the site, and I can feel the sense of pride and community that comes from what has been put together.
You're all very lucky. Not because you get to read me, god, you should all feel permanently dirty after reading my submissions; you should feel lucky that this medium exists, and you should be cursed for not taking advantage of it more often. When I think about the fact that I can come up with any hair brained scheme, any wild imagining, or any bizarre thesis and have it published for a large base of people to enjoy and comment on, I wonder how Dave isn't assaulted every month with submissions. I want to read about anything ANY of you out there have to write about. I've truly ranted about things that couldn't possibly interest most of you, and yet the numbers seem to show interest. I want to reciprocate.
I want to read about milk coming out of your nose in the middle of a meeting. I want to see a detailed breakdown, with pie charts, of how much of your time is spent making paper airplanes versus writing up bogus memos. We have nothing but freedom here, on this medium. There is no censor, no committee against us, and no one to do anything more hurtful then Judge us harshly and reveal their own stupidity and weakness. In the realm of "Online" we are Avatars and Gods, with nothing to limit our capacity to create then the bandwidth allotment allowed by your ISP, and we optimize our stuff :D . I want you to remember reading the first r4nt with YOUR name printed on something, that hot flush you get the feeling of knowing that people are not only interacting with your work but enjoying it, praising it, even hating it. You evoked emotion and stimulus from everyone "out there". I can never be paid for this work.
I thought a year ago when I left my job that I wanted to get out there and become a genuine "Writer". When I looked at everything I'd done I realized that I wasn't aspiring to write. I just was. It isn't on paper in stores across the country. It's online across the GLOBE. Anyone anywhere sees this work, and they get a new shot of it every month, or every few days if they choose to. The blog, the forums, all of these are here to create more then any one book or person can give you. We're here 24 hours a day, 7 days a week and you can come on board just by saying something, even (and sometimes especially) something pointless. This is our continuum, our heaven, our easel and studio, and you're invited to create here.
Join Us.

Crom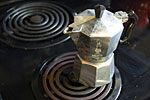 First R4NT
by Crom
Published on December 1st, 2005