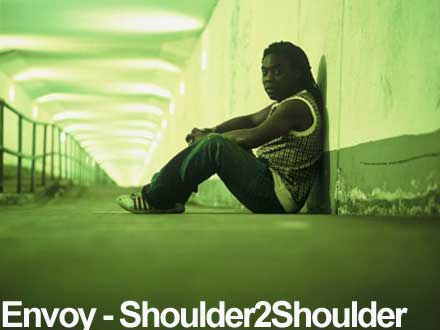 Envoy – Shoulder2Shoulder
On behalf of Soma Recordings we are proud to present to you audio streams of the new ENVOY single 'SHOULDER 2 SHOULDER', a video stream of 'Night Moves' and a free Weed (wma) audio download of 'Move On'.
Who exactly is Envoy? Is he the modern day techno soul man, the singer who pours out his heart on tracks like ?Emotional?? Or is he the ?king of strings?, the musical genius who makes club symphonies like ?Dark Manoeuvres?? Perhaps he?s a sexy, Chicago house legend with a penchant for carnal classics like ?Sex Drive? ? or a robotic machine funker with little regard for humanity? Maybe Envoy is really the fly in pop music?s ointment, the vocalist who looks to shatter the manufactured boy band stranglehold with his soulful, spiritual intonations on the soon to be huge ?Move On??
The reality though, is that Envoy, real name Hope Grant, is all of these things ? and much more, an enigmatic electronic music character, as complex and unpredictable as his multi-faceted work. His new album ?Shoulder 2 Shoulder? is released on Soma Records Monday, 7th June 2004.
'Shoulder 2 Shoulder' (released Monday, 31st May 2004), the title track from his forthcoming album, is an agitated cross between the martian sounds of Red Planet and the techno punk of Green Velvet, it's an outstanding example of stirring vocals combined with hi-tech funk which also features a delirious live sax solo. This technoid rocket has the potential to be a future classic.
On the flip, Soma star Funk D'Void, whose 'Volume Freak' album is still flying off the shelves has delivered an exquisitely deep and lush remix in his own Funk style.
Video Stream
'Night Moves'
Real Media video stream – Hi-rez
Audio
'Shoulder2Shoulder'
FREE Weed File
'Move On'

Many thanks to 'Soma Recordings' for supplying this special feature. For more information checkout www.somarecords.com

Soma Records

Envoy – Shoulder2Shoulder
by Soma Records
Published on June 1st, 2004
Envoy – Shoulder2Shoulder

The title track from his forthcoming album, is an agitated cross between the martian sounds of Red Planet and the techno punk of Green Velvet