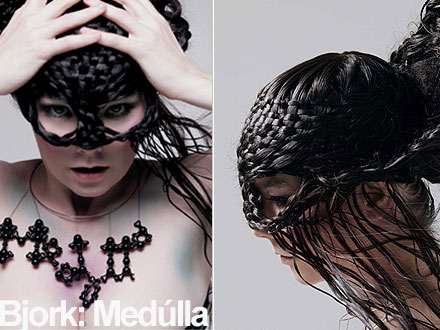 Bjork – Medulla
Produced and arranged by Bjork (with co-production on four track by her frequent associate, Mark Bell), MEDULLA represents another landmark recording for one of modern music's most ingenious and inventive artists. The album sees Bjork exploring the rich potential and remarkable range of the human voice. Much of the collection features the inimitable singer performing over percussive beats created by some of today's masters of human beatboxing, including Japan's Dokaka, the UK's Shlomo, and former Roots member, Rahzel.
In addition to its unique voice-based backdrops, the album features stunning vocal collaborations with an eclectic roster of performers including Faith No More/Mr. Bungle frontman Mike Patton, Inuit throat singer Tagaq, classical singer/human trombonist Gregory Purnhagen (Philip Glass, Gavin Bryars), and two full choir groups- the Icelandic Choir and the London Choir.Among the collection's highlights is the duet "Submarine," with legendary art-rock singer/songwriter Robert Wyatt.
Here lies within the video of 'Oceania' which features Bjork covered in what seems to be diamonds!
450k
Medulla hits stores August 31st 2004
Many thanks to 'Atlantic Records' for supplying this special feature. For more information checkout http://www.bjork.com/

Atlantic Records

Bjork – Medulla
by Atlantic Records
Published on September 1st, 2004