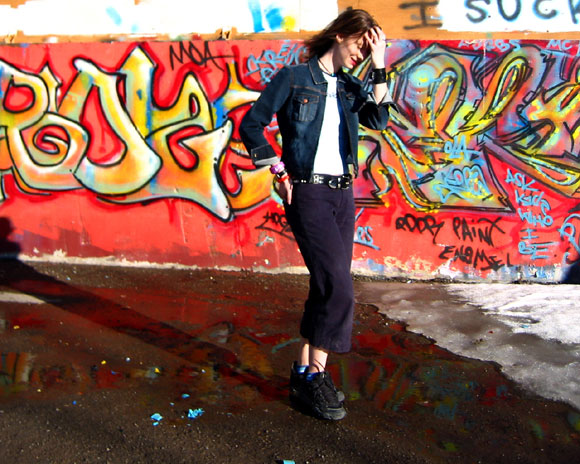 Bike Parts: Block 8
This past year I had the opportunity to ride for Block 8 and try out their parts. I set up my hardtail with the Block 8 12 Gauge cromo bars, Block 8 cromo Crank Pipes and Sealed Cage Match pedals. On my Full-Suspension I threw on the 12 Gauge bars and the Cage Match pedals.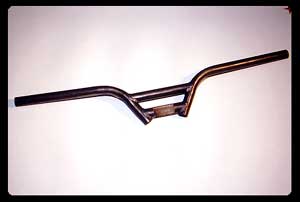 Block 8 12 Gauge Bar
The Block 8 12 Gauge bar is awesome, it fits great and on the first look you know it's going to last. The fact that it is a 4-piece bar made from 4130 cromoly means it's very strong and stiff. Even on difficult downhills or big drops it always has a strong feel and doesn't bend. The bars come in a 3″ rise and are 28″ in width, the rise is perfect and the width is great for DH and Freeride. I ended up cutting the bars down to 25.5″ on my hardtail for urban riding. Throughout the year I took it off a bunch of 15+ foot drops on both the hardtail and the full-suspension and never had anything but a solid feel when I landed. I also took a few good bails and it still held up fine, this bar instills a lot of confidence because it is one important part on your bike that you never have to worry about failing.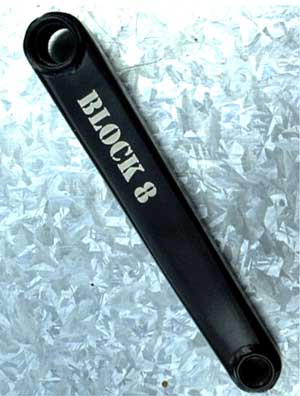 Block 8 Crank Pipes
Another area of the bike that needs to be stiff and durable are the cranks and BB. The Crank Pipes fit the bill perfectly, made out of heat-treated tubular 4130 cromoly they were definitely stiff and proved to be very durable. They come with an aluminum bolt on spider that is compatible with three rings; I set it up with a single ring and bashguard. It held up through everything but the hardest hit, I only ended up with a moderate wobble but if it does need replacement it's not an expensive part. Each cup has two bearings to disperse the forces of pedaling and hard landings, which they didn't have a problem with. After a year I'm still running the original bearings. Getting them set up on your bike isn't terribly difficult either; they come with a wide range of spacers to set up on almost all bikes. To change from one bike to another you just need to add or remove spacers until you get a proper driveline. The only difficulty I had was that the first spacer that interfaces with the bearings needed to be filed down a bit so as not to rub the cup. Once that was done they came apart and went back together without a hitch. I put them through a lot of abuse on the street and on the trails with no complaints.

Block 8 Sealed Cage Pedal
Finally I put the Cage Match pedals through the paces. I used both the sealed and the regular pedals extensively throughout the year for Dual racing, DH racing, Freeriding and Urban. The sealed pedals looked slick with a black CNC'd cage and laser etched graphics; grip was provided by 8 replaceable pins on either side. The sealed cartridge bearings felt smooth from the beginning and never let up, after a year of riding they still felt great. When bombing down the trails the concave cage added to the grippy feel of the pedals. The standard Cage Match pedals had the same main features as the sealed version with a concave cage and six replaceable pins per side. The strength of these pedals was surprising, they had a lot of encounters with immovable rocks that sheared off some pins but never bent the cage. Towards the end of the year the pedals became loose so I decided to overhaul them. This was a fairly easy task, and when it's done they feel like new. Overall I was impressed by both the feel and the grip that each pedal gave me.
I came into the season with high expectations and was not disappointed. I basically threw the parts on my bikes and didn't worry about them for the rest of the year. They all proved to be durable and trouble free and I know these parts will last me for many seasons to come.

Shaggy
Bike Parts: Block 8
by Shaggy
Published on April 1st, 2003
When:

2002

Rating:

BURLY

Website:

Bike Parts:

12 Gauge Bar, Crank Pipes, Sealed Cage Pedals