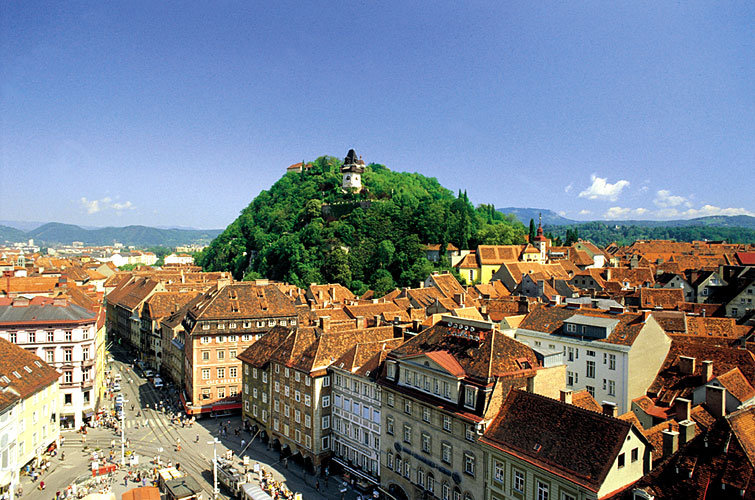 Graz: Austria's hidden Gem
One might compose a list of Austria's greatest with the likes of Vienna, Salzburg and Innsbruck, but for whatever reason the gem of a city, Graz, is often left off, unheard of.
Put it on your list.
This place is amazing and has been nominated as a UNESCO world heritage site in 1999. Set amongst some beautiful rolling landscapes, this vibrant city of 250 000 is full of everything one could imagine. You can easily entertain all age groups here, and satisfy any musical or artistic flavor sought. It offers such amazing versatility to the traveler at such a hospitable size. The ease for getting around allows minimal navigational frustrations, and you'll find absolutely every experience is pleasing to the senses, from simply strolling around, to having coffee, to just existing in Graz.
Tourism Graz lays out one of the most welcoming and presentable array of pamphlets for the traveler. If you flip through them you can compose an itinerary to suit you perfectly. People are extremely helpful there, and you can truly fill up many days in Graz. The diversity! The pull for visiting Graz came out of the blue, and I'd never heard of this place until the opportunity to go there was presented to me, and I am so fortunate to have gone! The event that brought us to Graz is unfortunately not listed on the events section on the tourism website, but should be added, as it is an event unlike any other. It was the spring festival of electronic music, this year's addition, springsix.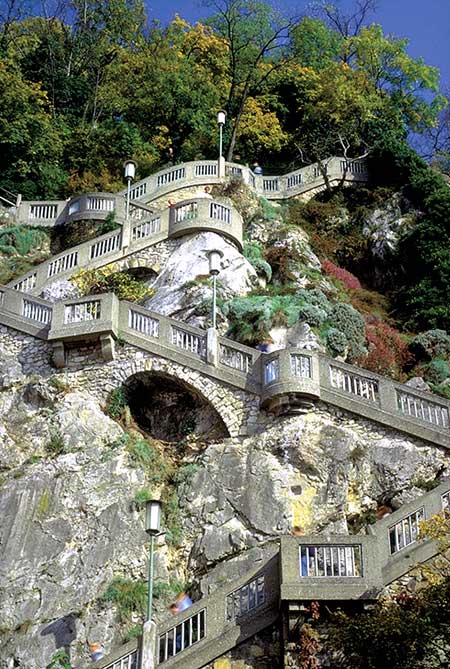 The Schlossberg
If you have time to make it to Graz, the city itself has some amazing features such as a volcanic mountain in the middle of the city which has caves, once meant for bunkers, that have been turned into venues for a variety of events. There is a glass elevator, a funicular, a clock tower, steep stairs, and some amazing restaurants all in & on this mountain called the Schlossberg. From its peak you can enjoy a panoramic view of Graz and its surrounding area. Immediately you will notice the Mur river which runs through the city. In, yes in, the Mur is an architectural caf�/lounge/park called Aiola island. To walk across the bridge, or have a cocktail there at night when the structure illuminates in blue, is definitely a must. Gazing slightly up and to the left will bring your eyes to notice the 'blue bubble building', or what is correctly known as the Kunsthaus. It is like nothing you have ever seen!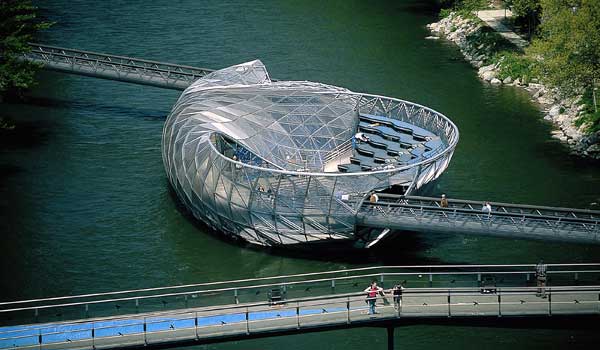 Aiola Island (on the Mur River)
Of course there are the traditional European red roofed buildings everywhere, meticulously cared for, which house an eclectic assortment of boutiques on their ground floors. The mix of modern and historic design works amazingly well, and sets a tone for the visitor. This tone is one depicting elegant old culture that accepts the modern and new, and that strives to continue to develop a future of unmatched enriching charisma that pushes usual, ordinary limitations. That right there is what makes this place so special; it allows itself to evolve!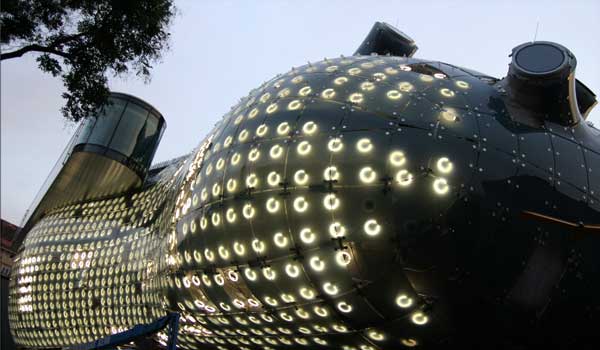 Kunsthaus
If you are curious about the attention to architecture and design, Graz tourism offers a guide called 'Art in public space'. Glancing through it while you stroll around the city will give you insight into some of the works you will run into. One that struck me as amusing was an 18m high glass elevator in the city's historic centre. If you pop on the lift, it will ascend you to the sky to change your perspective, and will help you get and eye to eye view of the 1670s Madonna statue. A more traditional art in public space which can be found in Stadtpark, is the Franz Joseph fountain. Here you will be able to see an example of how Graz mixes a traditional piece, such as the fountain, with a tilted metal umbrella like piece.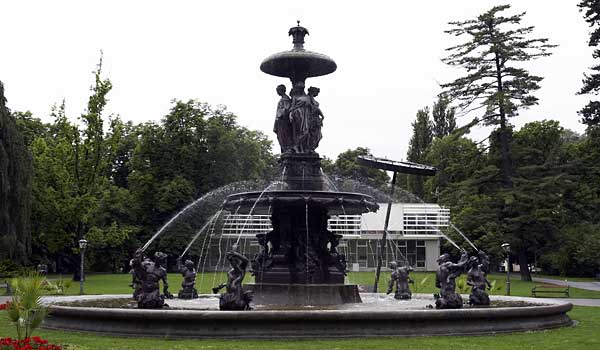 Fountain in Stadtpark
The museums, parks and historical sites to be visited are numerous. The best recommendation is to go to Graz tourism office, pick up their array of pamphlets that appeal to you, enjoy a gelato off the Hauptplaz square, and compose an itinerary of things you would like to do. Be sure to check dates and times museums are open, and if it recommends calling ahead, it might be best to do so, as some museums may be in the midst of changing their displays and can be temporarily closed.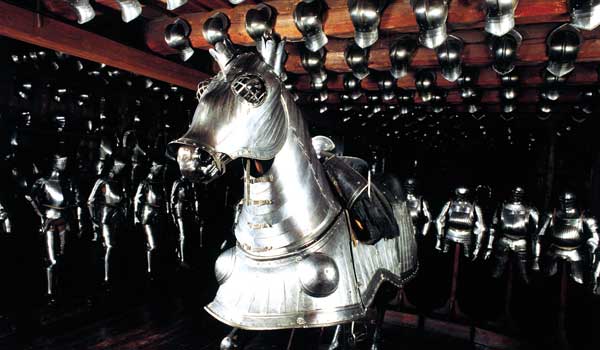 The Armory
The Armory is absolutely remarkable. This museum offers a handout for the tourist in their native language that allows one to take in the pieces displayed, along with a write up for a most extensive understanding of what you will see on the 4 floors you meander through. Looking at these pieces of armory worn hundreds of years ago, while staring at the dents in the metal, forces one to ponder bravery, and question who were the many boys and men who wore these suits to battle.
The Kunsthaus will display various works that change all the time. Just being inside the building is a treat, let alone appreciating whatever displays it is you manage to see. The museum of perception is like physics made fun! The interactive approach is a warm welcome after all the look only, don't talk type museums. The Hans Gross kriminal museum, if you can stomach it, is intriguing. Hans Gross's work, the father of modern criminology, is displayed: you can take in case studies, try to wrap your mind around the thought patterns of various perpetrators, or just eerily eye up photos, tools, and weapons used to torture and kill. It might remind one of the thriller �Hostel�. Pleasant activities after that might be needed, and there are various beautiful parks or gardens you can explore. The stadtpark is well visited by local residents, and you can often see friends and family enjoying picnics and each others company there. The botanical gardens are something most notable as well.
Inside the Kunsthaus
Do experience the tram system in Graz, as it is most efficient to travel on. If you need a place to take the tram, try for a sunny afternoon excursion to the baroque palace called the 'Schloss Eggenberg'. It has everything a palace could offer; courtyards, a planet hall, impressive frescoes, resident peacocks, and well groomed gardens. All the strolling around on cobblestone streets will build an appetite, but don't fret; you'll find great food anywhere. Interestingly enough, Italian cuisine was fabulous! Forno oven pizzas, gelatos, and pastas galore! Clearly if you are in Austria, you should indulge in some schnitzel. There seems to be a bit of an unwritten contest there: the bigger the schnitzel, the better. Some come as big as a 10� dinner plate!! Aiola upstairs is a restaurant on top of the Schlossberg which offers great ambience. If you find that all you get is fizzy water, and that you are desperately in need of an English retreat, do hit up our friendly Canadian's place called 'the office,' it rocks.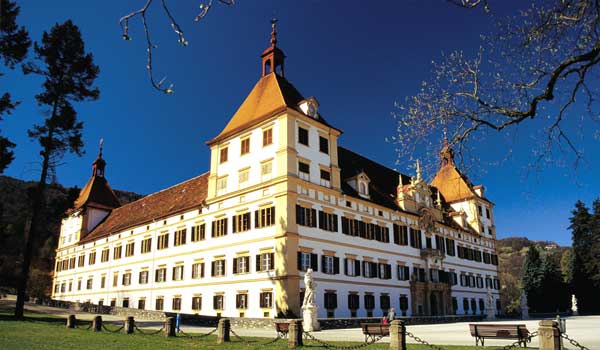 Schloss Eggenberg
Rest will also be important to you after your hours out on the town, there are many choices of hotels which can cater to almost any style and budget. Hotel Daniel is very modern, close to the train station, and most affordably priced. The Lonely Planet also lists a bunch of great places, and if you are there for a bit longer, short term apartment rentals are probably your best bet. That way you can have your own little fridge, and feel like you actually live in this great place! Hostels are always a great option, and can be easily found on any internet search.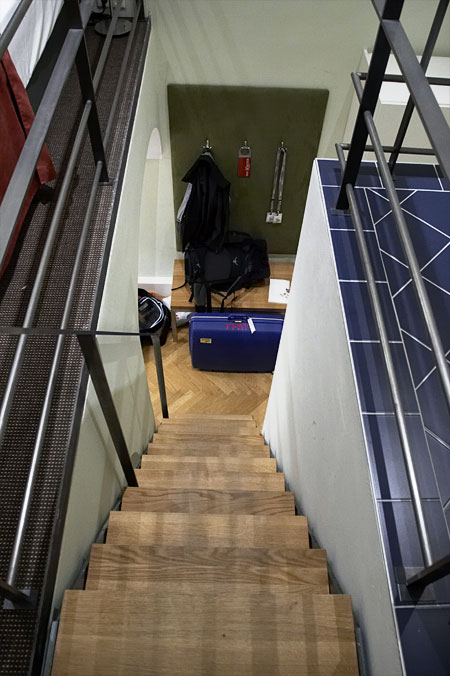 Inside our Hotel Room
If you have a little bit longer to spend in this charming city, there are many day or weekend trips to surrounding areas you can investigate. These excursions are also a wide range of activities from visiting castles, ruins, parks, monasteries, to hiking, caving, boating, swimming, golfing, cycling, and the one I must go back and do: Paragliding in Austria! If you would prefer a more laid back approach, the Styria region offers specialties such as vineyard tours, visiting the famous Lipizzaner stud farms, or dabbling in cuisine made with locally produced pumpkin seed oil. And if what you need is a complete rest and relaxation retreat, there even exists a 'spa region', which you can soak up and enjoy!
So there you have it, Graz, Austria. It really is a best kept secret.

Pamela Hruska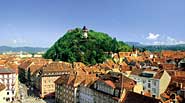 Graz: Austria's hidden Gem
by Pamela Hruska
Published on June 24th, 2006
Where:

Graz, Austria
When to visit: Anytime
Find it on the map!
Resource: Tourism Graz
Photographs compliments of Graz Tourism and David Gluzman