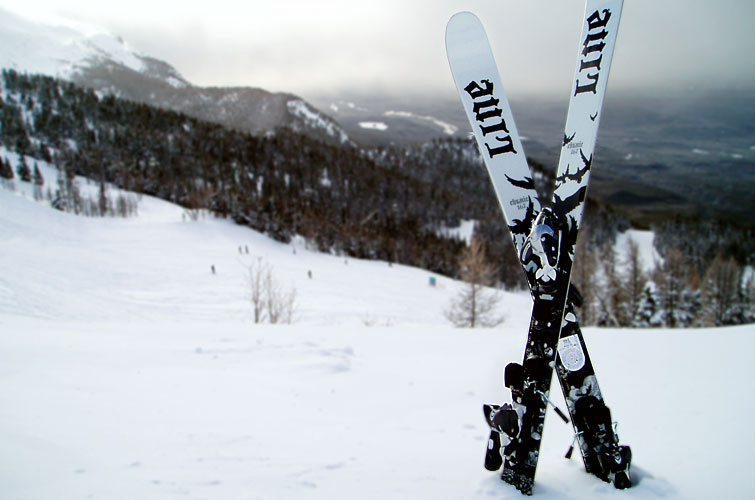 Gear Up For Winter
With only a short amount of time left before winter officially hits, snow enthusiast have already begun their hunt for this year's latest and greatest equipment and accessories. Skiers and boarders alike have their eyes fixed on the newest equipment made available by their favourite brands, but with so many new styles available, how are we all to choose?
In a series of articles, we here at R4NT want to help you make the right choice for this year's season. The first article will showcase some awesome gear for skiers with a second article showcasing radical gear for this year's snowboarders. The third an final in the series is for both sides of the pond, showcasing hot new apparel and accessories for both skiers and boarders alike.
We understand that there are litterally hundreds of items available on the market, so this is to merely give you a quick glimpse into whats new for this year. Looking to upgrade? Read on.
Boots
First up for you two-plankers are the boots. Arguably the most important piece of equipment for anyone planning to hit the slopes, boot manufacturers are constantly pushing forward trying to produce the ultimate, out-of-the-box fit for everyone. Unfortunately, that's a hefty package to lift. With any boot, you want to find one that is both snug and aggressive with plenty of support, yet has a free-range of motion that fits your style of skiing.
When it comes to boot entry, there are three different types. Rear-entry boots, which are designed for ease of use, are slowly fading out as front-entry boots become more common. Mid-entry boots allow for easy entry and exit, while front-entry boots are the most common. Many sporting shiny, heavy duty buckles. Choosing which to go with is completely personal preference. When trying on boots, make sure you wear proper socks. Cotton socks absorb moisture and become damp, making your feet cold. Thin, synthetic or wool blend socks that cover the calf are the best. You don't want to try to buy a boot that fit well with heavy socks and then turn around and find out that your brand new boots are too big when you're at the slope base with your ski socks on.
Here are some hot new boots for 2007, each designed for specific styles of skiing.
Bindings
The piece that "binds" the boots and skis together and allows them to work in unison, filtering out vibrations and absorbing shock.
Similar to how boots affect your skis responce, bindings are also important to ski control and safety. Binding technology is becoming more and more advanced each year and with new materials to work with, are becoming stronger and more lightweight. When looking for the right binding, first make sure you find a set that has the right brake width, especially if you have a ski with a wider waist. The brake should be wide enough to slip past the edges of the ski freely. Secondly, choose a binding that matches your style. Bindings can varry in weight and that can play an important role in your safetly and how you perform. Enjoy the terrain park? You'll want a light-weight binding. Enjoy racing fast and hard? You'll want a binding that is strong and reduces torque on your legs. Maybe look into a riser plate as well, as it will lift your center of gravity and give you more power when leaning in to turns.
Finally, you'll want a binding with a proper DIN setting range. This is the part of the binding that sets the tension on the boot, resulting in how easily the boot can be released. DIN stands for Deutsche Industrie Normen, the German industrial organization that sets standards for binding release tensions. The lower the DIN setting, the more easily the binding releases from your boot. The higher the setting, the harder it is for the boot to release. Beginners fall more frequently than experts (not to say that experts don't fall, because everyone falls), so a lower release tension is necessary for them to allow their boots to release easily and avoid injury. Experts are the opposite, requiring a higher DIN setting so that the vibrations and pressures of a fast downhill run don't release the boots, which can result in a not-so-good experience called crashing.
Here are some bindings that will help you get the best out of your experiences on the hill.
Skis
Ah yes, the skis. With hundreds of skis on the market all with their own specific performance specs, how is one to choose? Well, you first need to think about how you like to ski. Do you enjoy going fast on open groomed runs? Do you enjoy gliding through powder while drawing a line through the trees? Or are you the kind of person who takes pleasure in flying off of kickers and sliding on rails in the terrain park? All of these styles of skiing require a different type of ski. Some ski makers have been trying to cover all of the bases with their all-mountain styles. These can perform well on both hard-packed runs and in fluffy powder. It's important to choose the style of ski that best fits your style. Once you know your style, your selection can be greatly reduced.
In this day and age, hot and radical graphics are the norm on most skis, especially freeride and park skis. Generally much wider or "fatter" than other skis, these offer a much larger surface area to for ski designers to to work with. Brands such as Line, Armada, 4Front, Rossignol, and Bumtribe all take advantage of the larger surface area. Similar to buying a car, choosing a ski that represents you can be tough. Here are some radical new models that you'll be seeing in stores this winter. All I can say is, I wish there were a store that sold blank surface skis and the service of silk-screening them, so you could design your own graphics and have your very own custom ski designs.
There you have it kiddies. This was just a brief overview into some of the many new toys that snow-junkies will be looking for this winter season. Stay tuned for the second addition of this article where we'll be giving you a close-up look at some new gear for all your boarders out there.

Ian Harding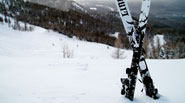 Gear Up For Winter
by Ian Harding
Published on October 18th, 2006